World Trigger: Volume 6 manga review
By Leroy Douresseaux
August 24, 2015 - 21:50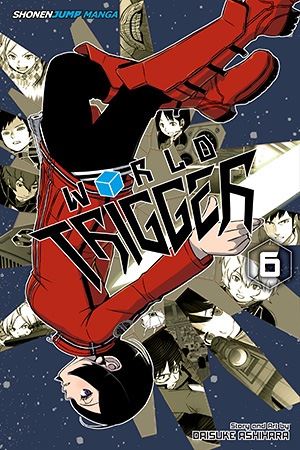 World Trigger Volume 6 cover image
Rated "T" for "Teen"

Earth is under constant threat from "
Neighbors
," invincible monsters from another dimension. One day, a gate opens in
Mikado City
, and Neighbors emerge, destroying much of the city and killing hundreds of citizens. An elite band of warriors, the
Border Defense Agency
or "
Border
," co-opts Neighbor technology and now fights back against their incursions.
Osamu Mikumo
, a 15-year-old high school student, is a Border trainee, and his friend,
Yuma Kuga
, is a Neighbor that looks like a human.
World Trigger

, Vol. 6
(
Repel Thy Neighbor!
, Chapter 44 to 52) opens with the latest invasion by the Neighbors. Interdimensional gates open and suddenly there are Neighbor soldiers and warriors spread out across Mikado City in every direction.
Now, Osamu stands alongside Border's best to defend the city. Although the number of Neighbors is large, Borders finds success in defeating them... that is until a new threat emerges. Meanwhile, the Neighbors prepare to reveal their true motives. Has Osamu improved enough to beat back this new threat and this new power?
THE LOWDOWN:
I found the first volume of the
World Trigger
manga to be one of the most fun to read graphic novel debuts of the year. I thought the series kind of drifted after the debut. However, Vol. 5 found the series gaining its footing, and this shonen manga, which reminds me of classic Saturday morning cartoon series, was living up to the promise of its debut.
World Trigger Volume 6
is a blast to read. Creator
Daisuke Ashihara
is offering more than just sci-fi fight comics and alien battle manga. He investigates the secrets that the characters hold to themselves, and motivation is important. I cannot help but wonder about each character's motives. Beyond the rah-rah friendship and comraderie, there is more. This manga, which appeals to the young reader in me, has mysteries that I want to solve.
POSSIBLE AUDIENCE:
Readers looking for a good alien invasion graphic novel for young readers and youthful older readers will want to pull the
World Trigger
.
Rating: A /10
Last Updated: January 24, 2022 - 11:00