World Trigger: Volume 5 manga review
By Leroy Douresseaux
March 29, 2015 - 20:50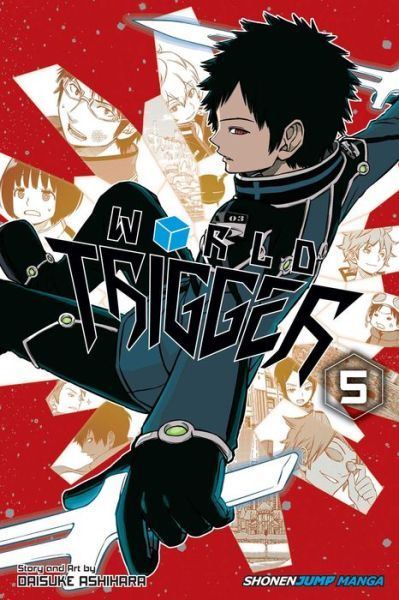 World Trigger Volume 5 cover image is courtesy of barnesandnoble.com.
Follow me on
Twitter
.
Rated "T" for "Teen"
The world is under constant threat from "
Neighbors
," invincible monsters from another dimension. One day, a gate opens in
Mikado City
, and Neighbors emerge and destroy much of the city, and killing hundreds of citizens. An elite band of warriors, the
Border Defense Agency
or "
Border,
" co-opts Neighbor technology and now fight back against their incursions.
Osamu Mikumo
, a 15-year-old high school student, is a Border trainee, and his friend,
Yuma Kuga
, is a Neighbor that looks like a human.
World Trigger

, Vol. 5
(Train Thy Neighbor!, Chapter 35 to 43) opens just moments after
Soya Kazama
of
Kazama Squad
declares that he wants to fight Osamu, who is no match for Kazama. For Osamu to win even a small victory, he will have to use his smarts.
Soya isn't the only one wanting to fight Osamu.
Shun Midorikawa
of
Kusakabe Squad
has more than one agenda. Plus, Yuma discovers that someone in Border really hates him. Speaking of Border, the big bosses want some intel from Yuga, but what are they willing to pay?
THE LOWDOWN:
The
World Trigger
manga is an adorable alien invasion shonen manga. I say adorable because, even with its tech and internal pseudo science, it seems like a classic Saturday morning cartoon series (more Nelvana than Hanna-Barbera).
World Trigger Volume 5
is the best graphic novel in the series since the first volume. It is not that the others were necessarily inferior; it is that Vol. 5 captures the sense of freshness and fun that I found so endearing in the first volume. So far, World Trigger is simple and straight-forward and fun and adventurous. It is the kind of comic book that I would have loved as kid.
POSSIBLE AUDIENCE:
Readers looking for a good alien invasion graphic novel for young readers will want to pull the
World Trigger
.
Rating: A /10
Last Updated: August 31, 2023 - 08:12