World Trigger: Volume 4 manga review
By Leroy Douresseaux
February 25, 2015 - 19:32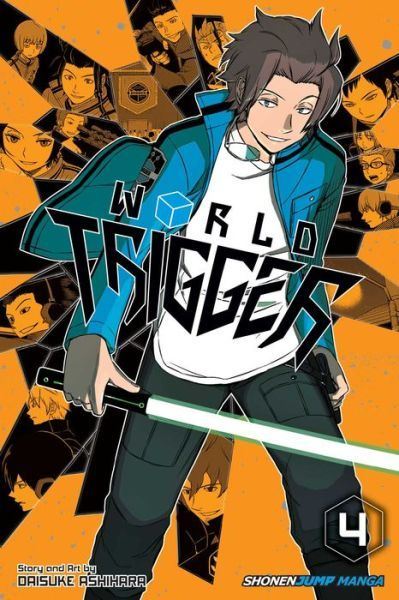 World Trigger Volume 4 cover image is courtesy of barnesandnoble.com.
Follow me on
Twitter
.
Rated "T" for "Teen"
The world is under constant threat from invincible monsters called "
Neighbors
." One day, a gate to another world opened in
Mikado City
, and Neighbors emerged from the gate, destroying much of the city, and killing hundreds of citizens. An elite band of warriors, the
Border Defense Agency
or "Borders," for short, co-opted Neighbor technology and now fight back against their incursions.
Osamu Mikumo
, a 15-year-old high school student, is a Border trainee, and his friend,
Yuma Kuga
, is a Neighbor that looks like a human.
Should Yuma, a Neighbor, be able to become an agent of Border? That is a raging controversy. As
World Trigger

, Vol. 4
(
Enlist Thy Neighbor!
, Chapter 26 to 34) opens,
Yuichi Jin
and
Arashiyama Squad
think so. That leads to a clash in which Border HQ and
Miwa Squad
battle Arashiyama Squad and their allies in the
Tamakoma Branch
,
Tamakoma-1
– for the fate of Yuma.
It's urban warfare, and Miwa Squad would love to possess Jin's
Black Trigger
. However, Jin will have to make a shocking sacrifice to HQ
Commander Masamune Kido
in hopes of changing hearts and minds when it comes to Yuma.
THE LOWDOWN:
The
World Trigger
manga began as an alien invasion manga that offered comedy with it battle manga theatrics.
World Trigger Volume 4
features several scenes of battle manga violence that seem a little above this series' "T" for "Teen" rating.
As I read it, creator
Daisuke Ashihara
is moving the series into more internal politics and workplace intrigue at Border headquarters. As is the case in many
Weekly Shonen Jump
fantasy manga,
World Trigger
wants the lead characters, Osamu and Yuma, to share the stage with a large ensemble cast, and, so far, these other characters seem to be worth it. Kudos to
Lillian Olsen
, whose translation work keeps up with the many personalities and the endless array of science technology and combat techniques that proliferate
World Trigger
.
POSSIBLE AUDIENCE:
Readers looking for a good alien invasion action-drama graphic novel for young readers will want to pull the
World Trigger
.
Last Updated: August 31, 2023 - 08:12