World Trigger: Volume 1 Advanced manga review

By Leroy Douresseaux
September 25, 2014 - 21:01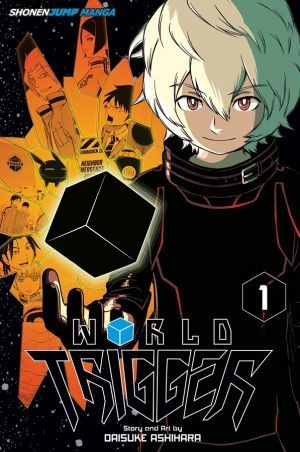 World Trigger Volume 1 cover image
Follow me on
Twitter
.
Rated "T" for "Teen"
One day, a gate to another world opened in
Mikado City
. Invincible monsters emerged from the gate and destroyed much of the city and killed hundreds of citizens. These monsters were named "
Neighbors
." An elite band of warriors, the Border Defense Agency or "
Borders
," for short, co-opted Neighbor technology and now fight back against their incursions.
Osamu Mikumo
, a 15-year-old high school student, is a Border trainee.
In
World Trigger

, Vol. 1
(
Destroy thy Neighbor!
, Chapter 1 to 7), Osamu meets the new student at his school. He is a blond-haired, 15-year-old named
Yuma Kuga
. Yuma is new to the ways of Japan, but he is feisty. He is also a Neighbor.
THE LOWDOWN:
The
World Trigger
manga is a typical shonen manga in that it has a boy hero. It is atypical in that its boy hero is not really good at his chosen heroic profession. A member of his organization's natural enemy is also his friend. That new friend also covers for Osamu during an incident that makes Osamu look like a giant-killer, which he is not.
World Trigger Volume 1
is straight-forward and easy to follow. Creator
Daisuke Ashihara
is clever in the many different ways in which he inserts back story, terminology, science, and technology that the readers need to know in order to understand
World Trigger
.
Lillian Olsen
's breezy translation picks up on the story elements that readers need to know and also on the series' comic tone.
I like Ashihara's loose, slightly-unpolished art style and his clean compositions and storytelling. This first volume is surprisingly and highly entertaining. Is it fluke? I hope not.
POSSIBLE AUDIENCE:
Readers looking for Shonen Jump sci-fi/monster fun will want to pull the
World Trigger
.
Last Updated: January 24, 2022 - 11:00