World Trigger: Volume 10 manga review
By Leroy Douresseaux
April 29, 2016 - 23:18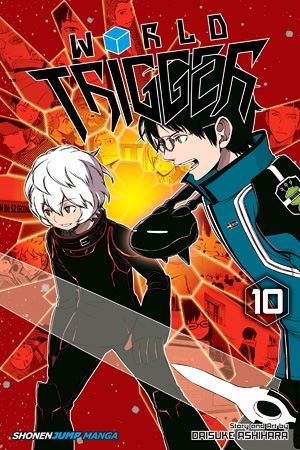 World Trigger Volume 10 cover image
Rated "T" for "Teen"
Earth is under constant threat from powerful humanoids and invincible monsters from another dimension. They are "
Neighbors
." One day, a gate opened in
Mikado City
, and Neighbors emerged, destroying much of the city and killing hundreds of citizens. However, an elite band of warriors, the Border Defense Agency or "
Border
," co-opted Neighbor technology and now fights back against their incursions.
Osamu Mikumo
, a 15-year-old high school student, is a Border trainee, and his friend,
Yuma Kuga
, is a humanoid Neighbor.
As
World Trigger

, Vol. 10
(
Defeat Thy Neighbor
, Chapter 80 to 88) opens, the current, large-scale invasion of Neighbors winds down. Humanoid Neighbors from the Neighbor country of
Aftokrator
lead the attack, and they are determined to kidnap as many C-ranked Border agent trainees as they can. They especially want
Chika Amatori
, whom they call "Golden Goose." Osamu protects Chika, but is grievously wounded.
Later, during a press conference, reporters demand answers for the 32 missing agents and for the six Border agents killed at headquarters, and Osamu is their target. Plus, the "B-rank wars" begin.
THE LOWDOWN:
The
World Trigger
manga will trigger the youthful imagination inside the shonen manga fan. It is pure and simply pop comics in the shonen battle manga tradition, but it could be a juvenile military science fiction comic book, video game, or animated series produced in America.
World Trigger Volume 10
is, like many volumes of the series, all about that bass boom of battle. However, some of the combat focuses on the intra-squad training. Creator
Daisuke Ashihara
gives that organizational battle education as much credence as he does the fight against the Neighbors. He also continues to expand the purview of the narrative by letting readers now that Earth will penetrate the Neighbors' side of the universe soon. This review is not just a praise of Vol. 10, which is good. Consider this a suggestion that you go back and enjoy
World Trigger
(which is available as a digital comic) from the beginning.
POSSIBLE AUDIENCE:
Readers looking for a good alien invasion graphic novel series for young readers and youthful older readers will want to pull the
World Trigger
.
A
Rating: A /10
Last Updated: January 24, 2022 - 11:00