World Trigger: Volume 14 manga review
By Leroy Douresseaux
January 5, 2017 - 22:33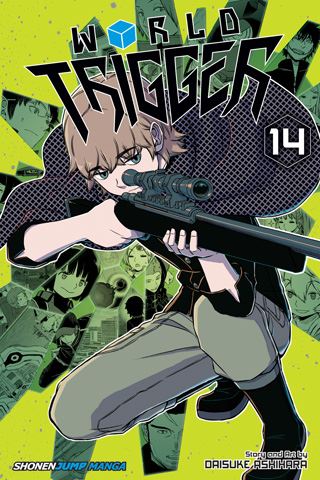 World Trigger Volume 14 cover image
Rated "T" for "Teen"
Earth is under constant threat from powerful humanoids and invincible monsters from another dimension, called "
Neighbors
." One day, a gate opened in
Mikado City
, and Neighbors emerged, destroying much of the city and killing hundreds of citizens. An elite band of warriors, the
Border Defense Agency
or "
Border
," co-opted Neighbor technology and now fights back against their incursions.
Osamu Mikumo
, a 15-year-old high school student, is a Border trainee, and his friend,
Yuma Kuga
, is a humanoid Neighbor.
As
World Trigger

, Vol. 14
(
Instruct Thy Neighbor
, Chapter 116 to 124) opens, Osamu attempts to recruit powerful Border agent and "
Black Trigger
" user,
Jin
, into his squad, "
Tamakoma-2
." Jin refuses, a setback for Osamu's plans to lead his team on a mission into Neighbors territory. Undeterred, Osamu seeks the training that will help to make him more powerful, but Jin, who can see the future, has predicted a looming Neighbor invasion. Training may have to wait.
THE LOWDOWN:
The
World Trigger
manga will trigger the youthful imagination inside the shonen manga fan, as I like to say. It certainly triggers feelings of pleasure, awakening the comic book reading kid in me.
World Trigger Volume 14
is business as usual: practice, training, learning, etc. Creator
Daisuke Ashihara
increasingly sets part of the narrative in the various worlds and countries of the Neighbors, and we learn that in many ways, they are just like humans on planet Earth. Ashihara has opened up new vistas for the reader's imagination, allowing for visits and discovery. I have to admit that the best of the series is still yet to come.
POSSIBLE AUDIENCE:
Readers looking for a good alien invasion graphic novel series for young readers and youthful older readers will want to pull the Shonen Jump
World Trigger
.
A-
Rating: A- /10
Last Updated: January 24, 2022 - 11:00