Vagabond VIZBIG Edition: Volume 1
By Leroy Douresseaux
June 14, 2009 - 14:56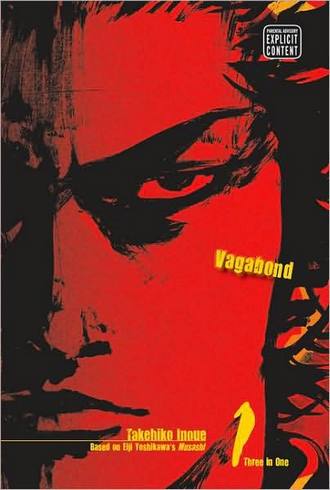 Vagabond VIZBIG Edition Volume 1 cover image is courtesy of barnesandnoble.com.
Rated "M" for "Mature"
Vagabond is a manga series by creator Takehiko Inoue (Slam Dunk, Real), which presents a fictionalized account of the life of Miyamoto Musashi. Musashi was a Japanese swordsman, duelist, and author (The Book of Five Rings) who lived from the late 16th century until the mid 17th century. Vagabond is also a loose adaptation of Eiji Yoshikawa's 1935 novel, Musashi, which is also a fictionalized account of the swordsman.
VIZ Media has published 29 volumes of Vagabond (as of May 2009), and the publisher has published three "VIZBIG" editions of the series (with a fourth due in July 2009). Vagabond, Vol. 1 VIZBIG Edition collects the first three volumes of the regular series and publishes them in a 600 page+ edition and in larger format (5.75" x 8.75" compared to the 4.8" x 7.9" of most VIZ manga). The first three volumes introduced readers to Shimen Takezō, the young ruffian and exceptionally violent and exceptional swordsman, who would later become Miyamoto Musashi.
The story begins after the epic Battle of Sekigahara, and the forces of the Toyotomi clan, which Takezō serves, are soundly defeated. With only a wooden practice sword, Takezō brutally dispatches the refugee hunters that patrol the battlefield looking for fighters from the losing side, which they kill. He and his childhood pal, Hon'iden Matahachi, are given shelter by a prostitute, Okō, and her daughter, Akemi. That only brings the duo into conflict with a gang of bandits looking for spoils of the recent battle – swords and armor that Okō and Akemi collect and sell. Later, Takezō returns to his home in Miyamoto Village, where he becomes a wanted man, but one person, a sharp-witted monk named, Takuan Sōhō, sees in Takezō more than just a murderous wild man.
The manga, the samurai drama, and historical fiction as high art: that's evident in every page of Vagabond. Of course, the visual narrative, with its flesh-splitting battle scenes, brutal sword duels, and assorted carnage, is both exhilarating and enchanting. However, the exquisite rendering, masterful composition, and sumptuous ink work are museum quality, and every brush stroke, like every panel, serves the story beautifully.
It's amazing what Inoue can do by cartooning the human head. It's more than just expressive faces and soulful eyes; it's also about how a cartoonist can use drawings to brings stories to life by creating a cast in which each player has a head or appearance unique to him. Even in a crowd scene, this makes a character stand out as vastly different from any other character. Vagabond is the graphic narrative as fine art.
A+
Last Updated: August 31, 2023 - 08:12