Vagabond: Volume 35 manga review
By Leroy Douresseaux
March 18, 2014 - 17:25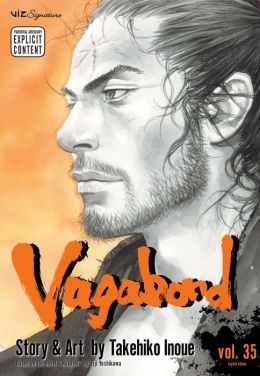 Vagabond Volume 35 cover image is courtesy of barnesandnoble.com.
Rated "M" for "Mature"
Vagabond is a historical manga from acclaimed creator, Takehiko Inoue (Slam Dunk). Vagabond is based on the 1935 novel, Musashi, by Eiji Yoshikawa. Both the novel and the manga present a fictionalized account of the life of Miyamoto Musashi, perhaps the most celebrated samurai of all time. He was a swordsman, duelist, and author (The Book of Five Rings), who lived from the late 16th century to the mid 17th century. In Vagabond, Musashi strives for enlightenment by way of the sword and is prepared to cut down anyone who stands in his way.
As Vagabond, Vol. 35 (Chapters 304 to 309) opens, Musashi has taken on new kinds of opponents. First, he is a surrogate to an orphaned boy named Iori. He is also trying to tame water, first building a damn and then, trying to understand the true nature of water. Musashi wants to farm rice, and a local farmer, Shusaku, is critical of his efforts.
Meanwhile, the Lord of Kokura Castle has been looking for Musashi. Nagaoka Sado, the Chief Retainer of the Kokura Hosokawa Clan, arrives and tells Musashi that he must come with them to Kokura Castle.
THE LOWDOWN: The Vagabond manga remains one of truly amazing comic books being published today – probably in the entire world. Vagabond Volume 35 contains some of the series' most philosophical material in some time.
Takehiko Inoue is brilliant. He sold me on the notion that his cartoon depiction of water was the real thing. I found myself working hard along with Musashi to discover the true nature and the elemental secrets of water. His stubbornness to conquer water and his fierce determination to farm are as impressive and as awe-inspiring as the fight scenes, and there are indeed some brutal duels this time around.
POSSIBLE AUDIENCE: Fans of all things samurai and chambara must read the VIZ Signature edition of Vagabond.
Rating: A+ /10
Last Updated: August 31, 2023 - 08:12