Vagabond: Volume 33
By Leroy Douresseaux
October 27, 2010 - 20:29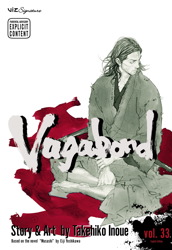 Vagabond Volume 33 cover image
Rated "M" for "Mature"
Vagabond is a manga from acclaimed creator Takehiko Inoue (Slam Dunk). It is based on Eiji Yoshikawa's 1935 novel, Musashi. Both the novel and the manga present a fictionalized account of the life of Miyamoto Musashi, perhaps the most celebrated samurai of all time. This swordsman, duelist, and author (The Book of Five Rings) lived from the late 16th century to the mid 17th century. In Vagabond, Musashi strives for enlightenment by way of the sword and is prepared to cut down anyone who stands in his way.
In Vagabond, Vol. 33, Musashi moves into the home of a wood sculptor and his family in their small house deep in the forest. In this domestic environment, Musashi hopes that he has found the refuge that will allow him to understand something within himself. Meanwhile, Ganryū Sasaki Kojirō, the swordsman prodigy, arrives in Bozen Kokura, near Musashi.
THE LOWDOWN: When readers describe Vagabond as a samurai drama, they are being accurate. While there are sword duels, Vagabond is a character study. Much of it deals with the interior lives of characters. Relationships between and among characters is complex and deeply engaging. Creator Takehiko Inoue tells quite a bit of the story through pantomime – sequential comic book art without word balloons and sound effects. Visually, it is an exciting way for the reader to grapple with a character's spirit and contemplate that character's thoughts. It is also riveting storytelling.
POSSIBLE AUDIENCE: Fans of all things samurai will dig Vagabond.
A
Last Updated: August 31, 2023 - 08:12