Vagabond: Volume 34 manga review
By Leroy Douresseaux
March 20, 2013 - 13:49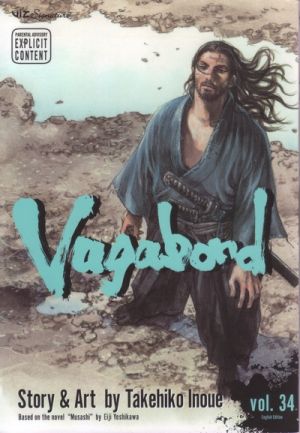 Vagabond Volume 34 cover image is courtesy of barnesandnoble.com.
Rated "M" for "Mature"
Vagabond, a historical manga from acclaimed creator, Takehiko Inoue (Slam Dunk), is based on Eiji Yoshikawa's 1935 novel, Musashi. Both the novel and the manga present a fictionalized account of the life of Miyamoto Musashi, perhaps the most celebrated samurai of all time. He was a swordsman, duelist, and author (The Book of Five Rings), who lived from the late 16th century to the mid 17th century. In Vagabond, Musashi strives for enlightenment by way of the sword and is prepared to cut down anyone who stands in his way.
As Vagabond, Vol. 34 (Chapters 297 to 303) opens, Sasaki Kojirō, the deaf and mute swordsman prodigy, finds himself gaining a new position. He becomes a sword instructor for the powerful Hosokawa Clan in Bozen Kokura, the family's home. That makes him the fifth instructor, and some in the clan believe one of the five must be relieved of his duties. That pits Kojirō against the eldest instructor, Ujiie Magoshiro and Kaede, the smelly instructor. Meanwhile, Kojirō bonds with Doryū, the devil horse that belongs to clan leader, Hosaokawa Tadatoshi.
Meanwhile, Musashi faces the remnants of the Yoshioka School, which he single-handedly destroyed. As he confronts nature and existence deep in the forest, Musashi meets a rather strange boy named Iori.
THE LOWDOWN: One of the truly fantastic manga reads is the Vagabond manga, which is also one of the few comic books being published today that can accurately be described as magnificent. Vagabond is also somewhat miraculous, as it leaves me speechless. During and after reading it, I suddenly forget most of the words I need in order to describe just how good Vagabond is.
So let me say, it's supa-dupa good. The art is a symphony of lush brushwork, intricate inking, precision line work, and lovely layers of toning. This is museum quality artwork.
POSSIBLE AUDIENCE: Fans of all things samurai and chanbara must read, at least once (twice or thrice), the VIZ Signature edition of Vagabond.
Rating: 10 /10
Last Updated: August 31, 2023 - 08:12