Vagabond: Volume 36 manga review
By Leroy Douresseaux
October 23, 2014 - 14:13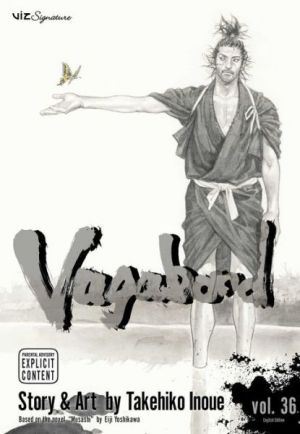 Vagabond Volume 36 cover image is courtesy of barnesandnoble.com.
Follow me on
Twitter
.
Rated "M" for "Mature"
Revered as a "sword-saint,"
Miyamoto Musashi
is perhaps the most celebrated samurai of all time. He lived from the late 16th century to the mid-17th century and was a swordsman, duelist, and author (
The Book of Five Rings)
.
Vagabond
is a historical manga from acclaimed creator,
Takehiko Inoue
(
Slam Dunk
), and is based on the 1935 novel,
Musashi
, by Eiji Yoshikawa. Both the novel and the manga present a fictionalized account of the life of Miyamoto Musashi. In
Vagabond
, Musashi strives for enlightenment by way of the sword and is prepared to cut down anyone who stands in his way.
As
Vagabond

, Vol. 36
(Chapters 310 to 315) opens, Musashi continues his personal battle to turn a barren plot of land into a fertile rice paddy. However, he must have the soil prepared before winter sets in if it is to be ready to be planted in the spring. Meanwhile, starvation spreads throughout the nearby remote village, and
Shusaku
, the local farmer who is critical of Musashi's efforts, makes a momentous decision about Musashi's farm and about his fellow villagers. Can Musashi take on the forces of nature the way he once took on 70 swordsman.
THE LOWDOWN:
At least once a year, the
Vagabond
manga appears in North American book stores and comic book shops. Like a sanctified work brought down from a holy mountain,
Vagabond
is awesome and awe-inspiring.
Vagabond Volume 36
does not contain as much philosophical material as previous volumes. The focus here is on two elements: first, Musashi's indomitable spirit, which made him a nearly-impossible to defeat swordsman, and secondly, how that spirit spreads in the face of a bleak winter, starvation, and seeming inevitable death. Creator Takehiko Inoue creates an emotional and spiritual work that reveals how fierce individualism can come together with others to become a united front against nature and against a reality that seeks to end a man and mankind alike.
Vagabond
is truly great.
POSSIBLE AUDIENCE:
Fans of all things samurai must read the VIZ Signature edition of
Vagabond.
Rating: A+ /10
Last Updated: August 31, 2023 - 08:12