Vagabond: Volume 31
By Leroy Douresseaux
January 15, 2010 - 20:01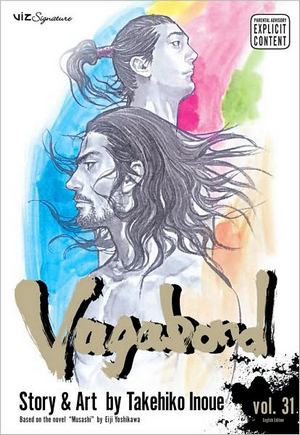 Vagabond Volume 31 cover image is courtesy of barnesandnoble.com.
Rated "M" for "Mature"
As he strives for enlightenment by way of the sword, Miyamoto Musashi is also prepared to cut down anyone who stands in his way. Vagabond, from acclaimed creator Takehiko Inoue (Slam Dunk), is based on Eiji Yoshikawa's 1935 novel, Musashi. Both the novel and the manga present a fictionalized account of the life of Miyamoto Musashi, perhaps the most celebrated samurai of all time. This swordsman, duelist, and author (The Book of Five Rings) lived from the late 16th century to the mid 17th century.
In Vagabond, Vol. 31, Hon'iden Matahachi, Musashi's former friend, attempts to carry his ailing mother, Osugi, on his back on the long journey back to their home in Miyamoto village. It may be the last time mother and son have together, and she reveals a bombshell of a secret to him. Meanwhile, Musashi continues his journey to Yagyu when he runs into an old acquaintance.
THE LOWDOWN: Not only is Vagabond an excellent samurai drama; it is also a superb character study. Takehiko Inoue takes the reader along on a journey of self-discovery that finds Musashi, the consummate taker of human life, dissecting life and existence. Perhaps, best about this series is that all the characters are great – from the most minor of players to the major actors. Each one will have a grip on your attention.
POSSIBLE AUDIENCE: Fans of all things samurai will dig Vagabond.
A
Last Updated: August 31, 2023 - 08:12