Vagabond VIZBIG Edition: Volume 9
By Leroy Douresseaux
November 17, 2010 - 12:42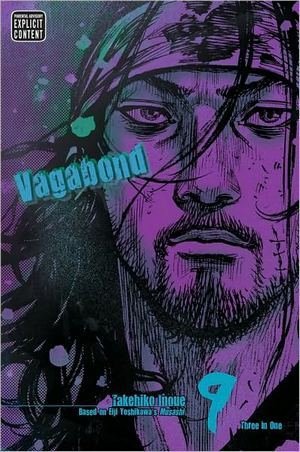 Vagabond VIZBIG Edition Volume 9 cover image is courtesy of barnesandnoble.com.
Rated "M" for "Mature"
Vagabond is a manga series by creator Takehiko Inoue (Slam Dunk, Real), which presents a fictionalized account of the life of Miyamoto Musashi. Musashi was a Japanese swordsman, duelist, and author (The Book of Five Rings), and he lived from the late 16th century to the mid 17th century. Vagabond is also a loose adaptation of Eiji Yoshikawa's 1935 novel, Musashi.
VIZ Media publishes Vagabond in single volumes, and also in "VIZBIG" editions. Each VIZBIG edition collects three single volumes of Vagabond in a larger format paperback (5.75" x 8.75" compared to the 4.8" x 7.9" of most VIZ manga). Vagabond VIZBIG Edition, Vol. 9 collects Volumes 25-27.
These three volumes reprint the epic battle between the Yoshioka School and Musashi, who battles 70 of the school's followers in a single duel. It all begins when Musashi challenges Denshichiro Yoshioka, head of the school, who had defeated him a year earlier. In the earlier battle, Musashi was not anywhere near as skilled and as consummate a swordsman as Denshichiro was. Now, Musashi is something special, but his duel with Denshichiro will have repercussions Musashi cannot imagine.
THE LOWDOWN: By the time I started reading the Vagabond regular series (with Vol. 29), Musashi had already had his earth-shattering duel against 70 men. I wondered what that duel would look like depicted in comics form, especially as a manga created by the supreme Takehiko Inoue.
Now, having read it, I don't know how to describe it. It's like the first time I read the first book of Batman: The Dark Knight Returns, the first issue of Watchmen, a Moebius comic, Akira, Love & Rockets (#5), Maus, and select others. In the case of this story arc of Vagabond, using the word "awesome" is too glib for such a profound interpretation and depiction of violence. "Great" sounds banal. As a fan of comic books, this Vagabond story is what I want to experience more, but realistically will not. There are not many who are as good as Inoue and also make comics on his level.
POSSIBLE AUDIENCE: Readers looking for terrific comics want Vagabond, especially Vagabond VIZBIG, because they get more.
A+
Last Updated: August 31, 2023 - 08:12