Vagabond: Volume 30
By Leroy Douresseaux
January 6, 2010 - 18:51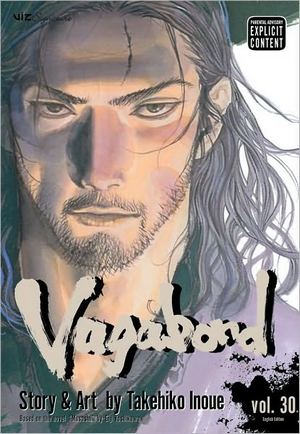 Vagabond Volume 30 cover image is courtesy of barnesandnoble.com.
Rated "M" for "Mature"
Vagabond is a seinen manga (comics for adult men) from acclaimed creator Takehiko Inoue (Slam Dunk). Based on Eiji Yoshikawa's 1935 novel, Musashi, Vagabond presents a fictionalized account of the life of Miyamoto Musashi, the Japanese swordsman, duelist, and author (The Book of Five Rings) who lived from the late 16th century to the mid 17th century.
Vagabond, Vol. 30 continues the aftermath of the battle at Ichijō-ji, where Musashi single-handedly killed 70 men of the Yoshioka Clan and also received a severe injury to his right leg that may end his sword-fighting days. Musashi, imprisoned at Nijō Castle, ponders offers to become an instructor and advice that he should marry childhood friend, Otsū. Meanwhile, Otsū is haunted by the ghost of one of the 70 men Musashi killed. In a separate storyline, swordsman and instructor for the Ogura Hosokawa clan, Ogawa Ienao, offers his position with the Hosokawa to Ganryū Sasaki Kojirō, the deaf and mute swordsman who bested Ogawa with nothing more than a twig.
There are volumes of Vagabond that feature extend sequences of pitched battles and fierce duels, and Volume 30 is not one of them. What it does feature is the other side of Vagabond – the striving for enlightenment by way of the sword. It ponders big questions. If everyone were equally skilled, would it put an end to killing by sword? If Musashi had to fight to get where he is, could his strength only be obtained through killing, and what does the answer mean for the people born after him?
Sometimes, Vagabond's narrative is a mad dog, every bit as wild as the battles it depicts. However, its philosophical side is often just as fierce and uplifting, as revealed in this exceptional edition.
A
Last Updated: August 31, 2023 - 08:12