Psyren: Volume 16 manga review
By Leroy Douresseaux
May 7, 2014 - 17:23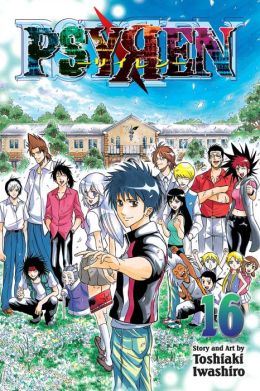 Psyren Volume 16 cover image is courtesy of barnesandnoble.com.
Follow me on Twitter:
Rated "T" for "Teen"
VIZ Media's publication of Psyren, the manga from creator Toshiaki Iwashiro, comes to an end with the publication of the sixteenth graphic novel in the series. Psyren focuses on high school student Ageha Yoshina.
Ageha finds a mysterious phone card emblazoned with the logo, "Psyren." This card takes him to his missing friend, Sakurako Amamiya, by transporting Ageha to Psyren. This is warped, alternate dimension that is also a near-future, post-apocalyptic Japan. Now a Psyren drifter, Ageha can be called back to this future wasteland at a moment's notice. There, he and the other Psyren drifters have to fight their way back to our world or die trying.
Psyren, Vol. 16 (entitled Connected World – Chapter 136 to 144 to Final Chapter) opens with the battle for which everyone has been anticipating: Miroku Amagi vs. Ageha. As leader of W.I.S.E., a group of psyonist terrorists, Miroku plans to change the world via the Global Rebirthday, the event that will destroy the world. Ageha plans to save his present and the future by stopping Miroku, but in order to gain the ability to match Miroku, Ageha must become a monster.
Ageha unleashes the nova form of Melzez Door, but Miroku reveals his "Ultimate Sephiroth" power, "Keter." Their battle crosses time, and meets on Mt. Kamui for "Operation Promised Tears," the place where the world will change for better or for worse. Are Ageha and his friends on time to save the world?
THE LOWDOWN: The Psyren manga began as a battle manga with a competition-reality show premise. Then, creator Toshiaki Iwashiro slowly unveiled a conspiracy that grew more complex with each volume. Psyren Volume 16 brings it all to a close by answering questions and revealing a surprise villain.
I have said before that Psyren has more than a passing resemblance to the classic manga, Akira. Both series offered a complex plot and conspiracy populated by characters possessing intriguing motivations and ensnared in intricate conflicts. While it is not the landmark work that Akira is, Psyren is imaginative and reveals how much so in this final volume. The truth is that Iwashiro offered such a good premise that this series had several possible satisfying endings, and it's worth reading again.
POSSIBLE AUDIENCE: Readers of science fiction action-thrillers will want to dial into the Shonen Jump title, Psyren.
A-
Last Updated: September 6, 2021 - 08:15