Psyren: Volume 13 manga review
By Leroy Douresseaux
November 3, 2013 - 15:17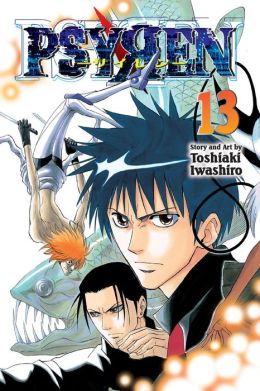 Psyren Volume 13 cover image is courtesy of barnesandnoble.com.
Rated "T" for "Teen"
High school student, Ageha Yoshina, finds a mysterious phone card emblazoned with the logo, "Psyren." The card takes him to his missing friend, Sakurako Amamiya, by transporting Ageha to Psyren, a warped alternate dimension that might actually be a near-future, post-apocalyptic Japan. Now a Psyren drifter, Ageha can be called back to this future wasteland at a moment's notice. Once in Psyren, Ageha and the other Psyren drifters have to fight their way back to our world or die trying.
As Psyren, Vol. 13 (entitled Infiltration – Chapter 108 to 116) opens, Miroku Amagi, the leader the mysterious W.I.S.E., gathers his group, old members with new. Meanwhile, Ageha determines that he must directly confront Amagi, and the best way to do that is to infiltrate W.I.S.E. headquarters – in the future world of Psyren.
Ageha, Amamiya, and Kabuto Kirisaki return to Psyren. What they discover is that W.I.S.E. has been going on a rampage to find The Root, the hideout of the Elmore Wood Gang and other survivors of the Global Rebirthday, the event that destroyed the world.
Delboro, Ash, Barry, Nekka, Odo, and Vigo: they are The Scourge, W.I.S.E.'s elite battle force. And they infiltrate the Root. Shao takes on the psycho killer Vigo, who wants to turn him into a work of gruesome art.
THE LOWDOWN: The Psyren manga is more than just a battle manga, but the battle is on in Psyren Volume 13. Psyren creator, Toshiaki Iwashiro, gets his inner Tite Kubo on with this Bleach-like display of fight comics.
Of course, there is some character drama – for those who don't want just battle manga titillation. Also, in this volume, readers get to see what it looks like when the heroes leave their world for Psyren.
POSSIBLE AUDIENCE: Readers of science fiction action-thrillers will want to call on the Shonen Jump title, Psyren.
Rating: A- /10
Last Updated: August 31, 2023 - 08:12