Psyren: Volume 14 manga review
By Leroy Douresseaux
January 9, 2014 - 11:24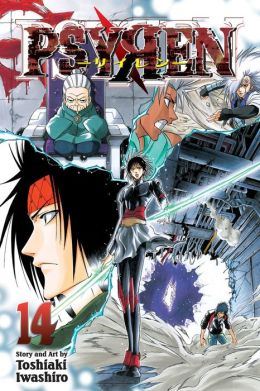 Psyren Volume 14 cover image is courtesy of barnesandnoble.com.
Rated "T" for "Teen"
Ageha Yoshina is a high school student who finds a mysterious phone card emblazoned with the logo, "Psyren." This card takes him to his missing friend, Sakurako Amamiya, by transporting Ageha to Psyren, a warped alternate dimension that is a near-future, post-apocalyptic Japan. Now a Psyren drifter, Ageha can be called back to this future wasteland at a moment's notice. Once in Psyren, Ageha and the other Psyren drifters have to fight their way back to our world or die trying.
Ageha is in Psyren for the fifth time. As Psyren, Vol. 14 (entitled Nova – Chapter 117 to 125) opens, W.I.S.E. continues its rampage through The Root, the hideout of the Elmore Wood Gang (EWG) and other survivors of the Global Rebirthday (the event that destroyed the world). The EWG proves up to the fight against The Scourge, W.I.S.E.'s elite battle force.
Meanwhile, change comes for Mari and Granny Elmore Tenjuin. Ageha seeks to learn "Nova," from his father, and Sakurako makes a surprising declaration. W.I.S.E.'s capital in future Japan, Astral Nava, awaits.
THE LOWDOWN: The Psyren manga is more than just a battle manga, but battle is the thing in the two most recent volumes of Psyren. A battle of super-powers rages in Psyren Volume 14, which makes this manga look like a superhero comic book. I prefer the mystery, conspiracy, revelations, and character drama, which the last few chapters of Vol. 14 does provide.
POSSIBLE AUDIENCE: Readers of science fiction action-thrillers will want to call on the Shonen Jump title, Psyren.
Rating: B+ /10
Last Updated: September 6, 2021 - 08:15