Psyren: Volume 12 manga review
By Leroy Douresseaux
September 3, 2013 - 14:56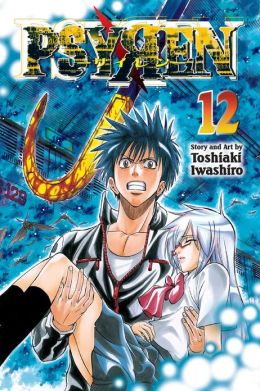 Psyren Volume 12 cover image is courtesy of barnesandnoble.com.
Rated "T" for "Teen"
While searching for a friend, high school student, Ageha Yoshina, finds a mysterious phone card emblazoned with the logo, "Psyren." The card does take him to his missing friend, Sakurako Amamiya, transporting Ageha to Psyren, a warped alternate dimension that might actually be a near-future, post-apocalyptic Japan. Now a Psyren drifter, Ageha can be called back to this future wasteland at a moment's notice. Once in Psyren, Ageha and the other Psyren drifters have to fight their way back to our world or die trying.
As Psyren, Vol. 12 (entitled Blood and Determination – Chapter 99 to 107) opens, Miroku Amagi, the leader the mysterious group, W.I.S.E., continues his rampage. Meanwhile, Ageha and Sakurako are at the National Aerospace Science Laboratory (NASL). There, they meet Kohei Iba, a scientist formerly employed at the Grigori Research Project.
Riddled with guilt, Iba tells them of the Grigori test subjects, and the one in particular that caught his attention, Miroku Amagi. Now, Iba may have a way to stop Amagi and his kind. It will require him to return to Grigori with Ageha and Sakurako, where deep in the high-security research lab hides Iba's chance at redemption. Of course, it was never going to be easy.
THE LOWDOWN: The Psyren manga is more than a battle manga, but it is not one of the flashier shonen titles. Creator Toshiaki Iwashiro mixes elements of conspiracy science fiction and the espionage thriller and offers shonen manga (comics for teen boys) that is more cerebral than other manga that also offer battles and duels.
Psyren revels in character, and because so much the narrative involves solving mysteries and discovering the truth behind secrets, the characters reveal more about themselves while on their various quests. It is as if the more they discover, the more they must uncover themselves to the readers. Psyren recalls the classic, Akira, in some ways, and it is worthy of that comparison.
POSSIBLE AUDIENCE: Readers of science fiction thrillers will want to hit up the Shonen Jump title, Psyren.
Rating: A /10
Last Updated: August 31, 2023 - 08:12