Psyren: Volume 10 manga review
By Leroy Douresseaux
May 7, 2013 - 15:41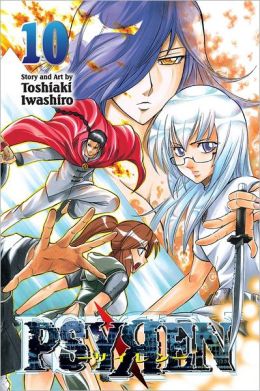 Psyren Volume 10 cover image is courtesy of barnesandnoble.com.
Rated "T" for "Teen"
While looking for his missing friend, Sakurako Amamiya, high school student Ageha Yoshina found a mysterious phone card emblazoned with the logo, "Psyren." The card transported him to Psyren, a warped alternate dimension that might actually be a near-future, post-apocalyptic Japan. Now a Psyren drifter, Ageha can be called back to this future wasteland at a moment's notice. Once in Psyren, Ageha and the other Psyren drifters have to fight their way back to their world or die trying.
As Psyren, Vol. 10 (entitled Alien Sky – Chapter 81 to 89) opens, Ageha finally manages to rescue the creator of Nemesis Q. She has no name; just call her Grigori 7. Because of her, Ageha learns of The Grigori Project, and why the rather taciturn young woman created the Psyren game. He also discovers the young woman's links to W.I.S.E., the mysterious group that wants to end the world, thereby creating the future that is Psyren. How does she share a past with its leader, Miroku Amagi?
Back in the present, Ageha finds himself targeted by a police inspector, Yusuke Takechi, and Sakura finds her memory in crisis. However, both friends find a new temporary home and thus, begin their formal investigation of Grigori.
THE LOWDOWN: Even with its beginnings as a pure battle manga, the Psyren manga focused on building engaging characters. Some were weird enough to be initially off-putting, but creator Toshiaki Iwashiro gradually built into such characters behaviors and traits that acted as character traps. Iwashiro gets into the characters' minds and their thoughts and desires, and brings the readers happily along with him – the trap.
POSSIBLE AUDIENCE: Readers who want science fiction thrillers dial their Shonen Jump phone to make a Psyren call.
Rating: A /10
Last Updated: August 31, 2023 - 08:12