Psyren: Volume 15 Advanced manga review
By Leroy Douresseaux
February 26, 2014 - 17:41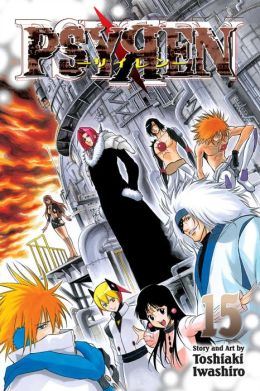 Psyren Volume 15 cover image is courtesy of barnesandnoble.com
Rated "T" for "Teen"

The high school student Ageha Yoshina finds a mysterious phone card emblazoned with the logo, "Psyren." This card takes him to his missing friend, Sakurako Amamiya, by transporting Ageha to Psyren, a warped alternate dimension that is a near-future, post-apocalyptic Japan. Now a Psyren drifter, Ageha can be called back to this future wasteland at a moment's notice. Once in Psyren, Ageha and the other Psyren drifters have to fight their way back to our world or die trying.
As Psyren, Vol. 15 (entitled Siren – Chapter 126 to 135) opens, Ageha and Sakurako continue to learn Nova from Ageha's father. Meanwhile, the Elmore Wood Gang (EWG) and other survivors of the Global Rebirthday (the event that destroyed the world) launch an assault on W.I.S.E.'s capital in future Japan, Astral Nava.
Fredrika and Kyle take on W.I.S.E. Star Commanders. Dark Sakurako and her sword, Heart Demon Red Bone, join the battle. Matsuri Yagumo and Kagetora Hyodo make their return. Oboro Mochizuki is a surprise. Meanwhile, the villain, Miroku Amagi, sits and broods on the past and on his future moves.
THE LOWDOWN: The Psyren manga is more than just a battle manga, but recent volumes were all about the battle. If you like fight comics, Psyren offers a clash of titans and in a fury of explosive energy. Psyren has more than a passing resemblance to the classic manga, Akira.
I think that Psyren is at its best when creator Toshiaki Iwashiro focuses on character, conflict and motivation. Psyren Volume 15 offers a chilling peek into the mindset of Miroku Amagi, complete with a dark parable slash creepy faux fairy tale. I think we know the ending of this series is going to be good.
POSSIBLE AUDIENCE: Readers of science fiction action-thrillers will want to call on the Shonen Jump title, Psyren.
Rating: A- /10
Last Updated: January 24, 2022 - 11:00