Psyren: Volume 9 manga review
By Leroy Douresseaux
March 1, 2013 - 14:04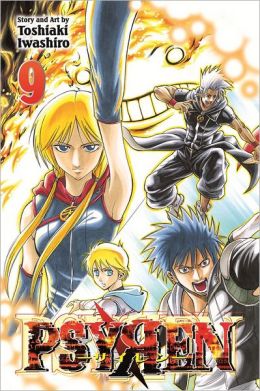 Psyren Volume 9 cover image is courtesy of barnesandnoble.com.
Rated "T" for "Teen"
He was looking for his friend, Sakurako Amamiya, who had disappeared. That was when high school student Ageha Yoshina found a mysterious phone card emblazoned with the logo, "Psyren.". The card transported him to Psyren, a warped alternate dimension that might actually be a near-future, post-apocalyptic Japan. Now a Psyren drifter, Ageha can be called back to this future wasteland at a moment's notice. Once in Psyren, Ageha and the other Psyren drifters have to fight their way back to their world or die trying.
Psyren, Vol. 9 (entitled The Living Island – Chapter 72 to 80) opens in The Root, located in the future-world that is Psyren. The Root is the home of the Elmore Wood Gang, whom Ageha knew in the past the Tenjuin children. In Psyren, they are older and more powerful. Ageha and Amamiya travel with three of them: Mari, Fredrika, and Kyle, to Dreameater Island, the home of the master of Nemesis Q.
However, they are not alone in the search for Nemesis Q. Meet Mr. Usui. He is the self-proclaimed living incarnation of Shiro Tokisada Amakusa, the Thousand Mile Seer who can foretell the future. And he wants Nemesis Q's master dead.
THE LOWDOWN: The Psyren manga began as pure battle manga. Much of its setting was an alternate dimension where characters were forced to do battle. As the characters distinguished themselves from one another, creator Toshiaki Iwashiro turned this manga into a twisty science fiction thriller. He is always digging into the characters' minds, and their thoughts and desires grapple with this narrative.
With all its time jumps and shifts of reality, Psyren is truly a mindbender. It is also one of the very best science fiction comic books available to readers in North America.
POSSIBLE AUDIENCE: Readers who want science fiction thrillers dial their Shonen Jump phone to make a Psyren call.
Rating: A /10
Last Updated: September 6, 2021 - 08:15