Psyren: Volume 11 manga review
By Leroy Douresseaux
June 27, 2013 - 16:39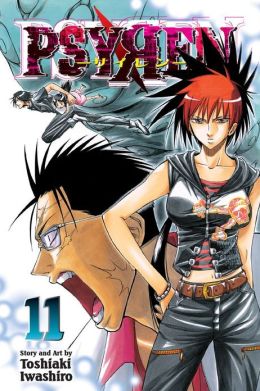 Psyren Volume 11 cover image is courtesy of barnesandnoble.com.
Rated "T" for "Teen"
High school student Ageha Yoshina is looking for his missing friend, Sakurako Amamiya, when he finds a mysterious phone card emblazoned with the logo, "Psyren." The card transports him to Psyren, a warped alternate dimension that might actually be a near-future, post-apocalyptic Japan. Now a Psyren drifter, Ageha can be called back to this future wasteland at a moment's notice. Once in Psyren, Ageha and the other Psyren drifters have to fight their way back to their world or die trying.
As Psyren, Vol. 11 (entitled The Two Test Subjects – Chapter 90 to 98) opens, Ageha and his allies continue their investigation of the past. During their last trip to Psyren, Ageha learns the true purpose of the Psyren game. He also discovers the existence of The Grigori Project, but now he must learn how Miroku Amagi, the leader the mysterious group, W.I.S.E., is connected to the project.
Enter Kagetora Hyodo, Ageha's friend. Now, Kagetora and his team, Haruhiko Yumeji and Ran Shinonome, head to Spring Breeze Academy. They are surprised at what they find, but not at what they don't find. Soon, Kagetora is chasing Miroku ally, Junas, who has just taken a young female student, Riko Hachiboshi, with him. For Kagetora, however, the greatest battle lies ahead.
Meanwhile, Ageha and Sakurako visit the National Aerospace Science Laboratory (NASL), where Ageha's estranged father is the chief researcher. He has news about the meteor called Ouroboros.
THE LOWDOWN: Because it seemed like yet another pure battle manga, I wasn't sure if I would be in love with the Psyren manga. I could see myself enjoying reading it, whenever the VIZ Media rep sent me a copy, but I couldn't see myself falling in love with it the way I go crazy for Naruto and Akira.
As the series became more involved, however, I became more involved with it. With each chapter, creator Toshiaki Iwashiro revealed more about the characters, and they became more engaging. Then, Psyren became more than a just a high concept. It went beyond the basic premise of being about characters trapped in another dimension, playing dangerous game. Psyren is a wide-ranging conspiracy and a race against time. The story is so well executed that the reader's imagination will want to enter that race.
POSSIBLE AUDIENCE: Readers of science fiction thrillers will dial their Shonen Jump phone and call on Psyren.
Rating: A /10
Last Updated: August 31, 2023 - 08:12