Psyren: Volume 3
By Leroy Douresseaux
February 24, 2012 - 09:22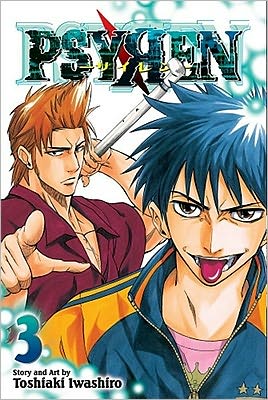 Psyren Volume 3 cover image is courtesy of barnesandnoble.com.
Rated "T" for "Teen"
Is Psyren, a warped alternate dimension, really Japan as a future wasteland? High school student Ageha Yoshina is now a Psyren drifter and can be called back to Psyren with at a moment's notice. Once in Psyren, Ageha and the other Psyren drifters have to fight their way back to our world or die trying.
As Psyren, Vol. 3 (entitled Dragon) opens, only five: Ageha, Sakurako Amamiya, Hiryu Asaga, Oboro Mochizuki, and Kabuto Kirisaki are still standing in the group of people most recently summoned to Psyren. Now, they must face the Taboo, and this one is a masked sniper is using a strange, but powerful rifle-like weapon to blast away at this quintet's shelter, and Ageha and friends will have to fight back to survive. The big shocker is that their attacker is someone from Hiryu's past. Meanwhile, Ageha's powers awaken… and they are awesome!
THE LOWDOWN: In my Psyren manga review a few months back, I wondered if the Psyren manga would "devolve into a tiresome battle manga with enough killer monsters to look like a Yu-Gi-Oh! clone." I had my doubts that the series would turn cartoonish and this third volume gives me confidence that Psyren will be a good series.
Also, each character's mental/psi power has a unique twist, so this is not just run-of-the-mill telepathy, telekinesis, pyrokinesis, etc. Creator Toshiaki Iwashiro uses battles and the activation of the powers to delve into the characters, so this tale of the fight for survival has promise as both a thriller and as a character drama.
POSSIBLE AUDIENCE: Readers who enjoy reading stories about teens with psi powers will love Psyren.
B+
Last Updated: August 31, 2023 - 08:12