Nura: Rise of the Yokai Clan: Volume 20 Advanced manga review
By Leroy Douresseaux
March 29, 2014 - 17:07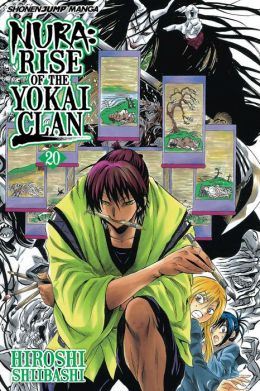 Nura Rise of the Yokai Clan Volume 20 cover image is courtesy of barnesandnoble.com.
Rated "T" for Teen
Middle school student Rikuo Nura really wants to be a normal kid. But how can you be normal when you're only three-fourths human? And the remaining quarter is yokai, the supernatural creatures of Japanese folklore? Rikuo's grandfather is Nurarihyon, the Overlord and Supreme Commander of the Tokyo-based, yokai consortium, the Nura Clan. Nurarihyon wants Rikuo to take his place as the next leader of the Nura Clan – the Lord of a Hundred Demons. At night, Rikuo's yokai blood awakens. He becomes the "Third," the future leader and current "Underboss" of Nura Clan.
The Hundred Stories Clan's conspiracy against the Nura Clan continues, and its members prepare for the return of their overlord, Sanmoto Gorozaemon. As Nura: Rise of the Yokai Clan, Vol. 20 (entitled Kusozu – Chapters 166 to 174) opens, Tokyo is under attack. The yokai of the Hundred Stories Clan are attacking and even transforming the citizens of Tokyo into new yokai. But Tokyo is terrified of Rikuo, for he is getting the blame for the chaos.
The Hundred Stories Clan has spread a rumor that Rikuo is the harbinger of the apocalypse, and now, Tokyo is out to kill him. Kiyotsugu Kiyojyuji, Rikuo's yokai-loving, human classmate, is determined to prove Nura's innocence and to show everyone what a great guy he is.
Meanwhile, Kejoro a/k/a "Kino" of Nura Clan finds herself under attack by Tamasaburo the Seducer. At the same time, Kyosai, known as "Sanmoto's "Arms," stalks Maki and Natsumi. He hopes to draw out Rikuo's "Third" persona. Kyosai is the mad painter and his paintings can kill – even Nura.
THE LOWDOWN: The Nura: Rise of the Yokai Clan manga has become one of my favorite manga and comic books in the last two years. Creator Hiroshi Shiibashi has spent the last three years or so keeping the series in full battle manga mode.
Nura: Rise of the Yokai Clan Volume 20 shows off the other thing that the series does well – introduce page after page of imaginatively conceived creatures. Some are of the gooey, decaying kind right out of EC Comics. Others are part of an endless menagerie of weird beings, as if Brian Froud were unleashed on yokai. Nura is fun to read, but it's also fun to just let your eyes roam across the page, seeing wonderful new things.
POSSIBLE AUDIENCE: Readers looking for imaginative and scary shonen will want the Shonen Jump title, Nura: Rise of the Yokai Clan.
Rating: A+ /10
Last Updated: August 31, 2023 - 08:12