Nura: Rise of the Yokai Clan Volume 17 manga review
By Leroy Douresseaux
October 5, 2013 - 16:54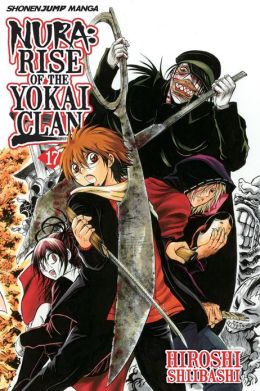 Nura Rise of the Yokai Clan: Volume 17 cover image is courtesy of barnesandnoble.com.
Rated "T" for Teen
Middle school student Rikuo Nura wants to be a normal kid. However, he is three-fourths human and one-quarter yokai, the supernatural creatures of Japanese folklore. His grandfather is Nurarihyon, the Overlord and Supreme Commander of the Tokyo-based, yokai consortium, the Nura Clan. Nurarihyon wants Rikuo to take his place as the next leader of the Nura Clan – the Lord of a Hundred Demons. Rikuo is reluctant, but at night, his yokai blood awakens. He becomes the "Third," the future leader and current "Underboss" of Nura Clan.
As Nura: Rise of the Yokai Clan, Vol. 17 (entitled Kirisaki Toryanse, The Ripper – Chapters 139 to 147) opens, Rikuo takes on Kirisaki Toryanse, The Ripper, a terrifying enemy whose Fear feeds on the pain of children. Also, Yura Keikan and her older brother, Ryuji, travel to the worst tourist destination ever, "The Village That Devours People." Will this brother-sister onmyoji (exorcist) duo discover if there is truth to the wild stories?
These missions by the Nura Clan and its allies are related to urban legends. It all connects to a mysterious ayakashi known as Yanagida and his quest for "the Hundred Stories Collection."
THE LOWDOWN: After the pyrotechnics of the Hagoromo-Gitsune story arc, the Nura: Rise of the Yokai Clan manga moves into a new story arc. Nura is a dark fantasy manga, so horror and fear play a big part, but this new storyline may go even deeper into J-horror and story elements associated with horror films.
Hiroshi Shiibashi, creator of Nura: Rise of the Yokai Clan, always throws in a surprise or two or three. He is constantly offering details about his characters, and his flashbacks into the past are every bit as good as the main story. That keeps me coming back to Nura, and is why I heartily recommend it. The "abandoned baby in the subway" story will probably create new fans, but it makes me love the series even more.
POSSIBLE AUDIENCE: Readers of all ages who want scary stories will want the Shonen Jump title, Nura: Rise of the Yokai Clan.
Rating: A /10
Last Updated: August 31, 2023 - 08:12