Nura: Rise of the Yokia Clan: Volume 11 manga review
By Leroy Douresseaux
September 29, 2012 - 16:15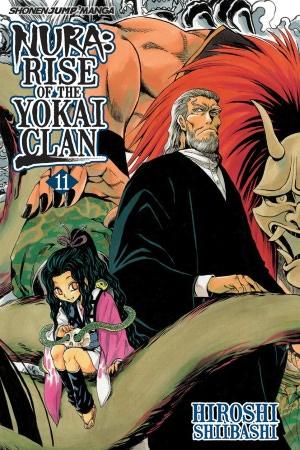 Nura Rise of the Yokai Clan Volume 11 cover image is courtesy of barnesandnoble.com.
Rated "T" for Teen
The day belongs to humans, but the night belongs to those supernatural creatures of Japanese folklore that thrive on fear, the yokai. Middle school student Rikuo Nura is three-fourths human and one-quarter yokai. His grandfather is Nurarihyon, the Overlord and Supreme Commander of the powerful yokai consortium, the Tokyo-based Nura Clan. Nurarihyon wants Rikuo to take his place as the next leader of the Nura Clan. Rikuo is reluctant, but at night, his yokai blood awakens. He becomes the "Third," the future leader and current "Underboss" of Nura Clan.
As Nura: Rise of the Yokai Clan, Vol. 11 (entitled Kyoto in Darkness) opens, Rikuo and his night parade of a hundred demons approach the besieged city of Kyoto aboard a weird flying boat, which is actually a yokai. Their enemies, allies of the monstrously powerful yokai, Hagoromo-Gitsune, however, are determined to keep them out.
Once in Kyoto, they are confronted by a powerful yokai capable of using the "Thousand Torii" gates to form a massive labyrinth that can become a deadly prison. Now, Amanojaku-Awashima, the dual-gendered yokai, must break free of this labyrinth. Plus, meet the ancient yokai behemoth, Tsuchigumo.
THE LOWDOWN: I have previously called the Nura: Rise of the Yokai Clan manga one of the best yokai-themed manga and one of the most imaginative fantasy comic books in North America. I remain amazed how creator Hiroshi Shiibashi crams page after page (and sometimes, panel after panel) with a menagerie of fantastic supernatural life forms and magical being-things.
Right now, this shonen battle manga is in the middle of a war story arc, but all that fight action does not take away from this series' amazing graphic style. The use of heavy inks and toning gives the art texture that my eye can practically feel. I think texture is an under-rated part of comic book art, particularly how it can suggest mood and atmosphere and even enhance the veracity of the setting. Nura: Rise of the Yokai Clan will certainly make the reader appreciate that.
POSSIBLE AUDIENCE: Readers of all ages who like fantasy will find in Nura: Rise of the Yokai Clan a must-read.
Rating: A /10
Last Updated: January 24, 2022 - 11:00