Nura: Rise of the Yokai Clan Volume 13 manga review
By Leroy Douresseaux
February 6, 2013 - 15:19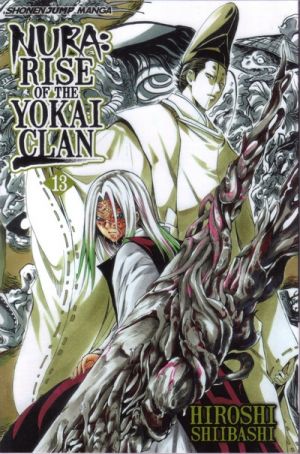 Nura Rise of the Yokai Clan Volume 13 cover image
Rated "T" for Teen
Three-fourths human and one-quarter yokai (the supernatural creatures of Japanese folklore), middle school student Rikuo Nura is not the normal boy he wants to be. His grandfather is Nurarihyon, the Overlord and Supreme Commander of the powerful, Tokyo-based, yokai consortium, the Nura Clan. Nurarihyon wants Rikuo to take his place as the next leader of the Nura Clan – the Lord of a Hundred Demons. Rikuo is reluctant, but at night, his yokai blood awakens. He becomes the "Third," the future leader and current "Underboss" of Nura Clan.
As Nura: Rise of the Yokai Clan, Vol. 13 (entitled Conflict – Chapters 104 to 112) opens, the battle against Hagoromo-Gitsune and Kyoto yokai continues. Yura Keikain, Rikuo's friend and an Onmyoji (exorcist) of yokai, takes on Kidomaru. Aotaba, the human who became a monster, protects Rikuo's crew, the Kiyojoji Paranormal Patrol.
Meanwhile, Rikuo is on Mount Kurama and is under the tutelage of fellow clan member, the taciturn Gyuki. Rikuo is trying to learn a technique worthy of the Lord of a Hundred Demons. It will be another clan member, Zen, who will help Rikuo take that next step. Then, Rikuo will fight the ancient, four-armed, yokai behemoth, Tsuchigumo, again.
THE LOWDOWN: The Nura: Rise of the Yokai Clan manga continues to be one of the most imaginative fantasy comic books published in North America. That is to say nothing of how it is one of the best yokai-themed manga that I have every encountered.
Nura: Rise of the Yokai Clan continues the Hagoromo-Gitsune story arc, and creator Hiroshi Shiibashi emphasizes the bonds of family and friendship, but not in a cloying manner. The themes of sacrifice and trust resonate and feel genuine. Of course, there is no shortage of fantasy action. The battle between Rikuo and Tsuchigumo is worthy of the epic fights drawn by Jack Kirby.
POSSIBLE AUDIENCE: Readers of all ages who like fantasy will find in the Shonen Jump title, Nura: Rise of the Yokai Clan, a must-read.
Rating: A /10
Last Updated: February 5, 2023 - 09:06