Nura: Rise of the Yokai Clan: Volume 12 manga review
By Leroy Douresseaux
December 9, 2012 - 13:30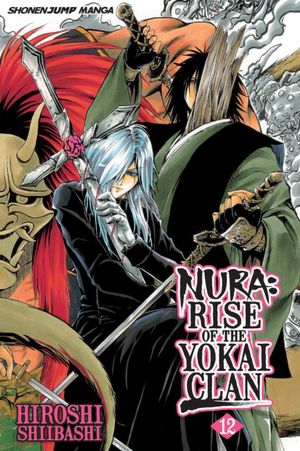 Nura Rise of the Yokai Clan Volume 12 cover image is courtesy of barnesandnoble.com.
Rated "T" for Teen
Middle school student Rikuo Nura is three-fourths human and one-quarter yokai (supernatural creatures of Japanese folklore). His grandfather is Nurarihyon, the Overlord and Supreme Commander of the powerful, Tokyo-based, yokai consortium, the Nura Clan. Nurarihyon wants Rikuo to take his place as the next leader of the Nura Clan. Rikuo is reluctant, but at night, his yokai blood awakens. He becomes the "Third," the future leader and current "Underboss" of Nura Clan.
As Nura: Rise of the Yokai Clan, Vol. 12 (entitled Devil's Drum) opens, Rikuo gallantly battles the ancient, four-armed, yokai behemoth, Tsuchigumo. That, however, is not enough to stop the monster from kidnapping Yuki-Onna, the Nura clan-mate who is in charge of looking after Rikuo. In order to fight Tsuchigumo, Rikuo will have to grow stronger, and it seems as if only the taciturn Gyuki can help him.
Meanwhile, another clansman, Kubinashi, goes on a rampage, killing the yokai of Kyoto, the epicenter of an invasion led by the monstrously powerful yokai, Hagoromo-Gitsune. Now, Kubinashi must face off against one of Hagoromo-Gitsune's followers, Ibaraki-Doji, and his fearsome, dark weapon, the Devil's Drum. Plus, the origin of Ibaraki-Doji is revealed, along with his ties to Nue.
THE LOWDOWN: As have previous volumes, the twelfth volume of the Nura: Rise of the Yokai Clan manga maintains the series' status as one of the best yokai-themed manga and one of the most imaginative fantasy comic books published in North America. The Hagoromo-Gitsune story arc has also transformed the series, to an extent, into something of a battle manga. Fights and battles have not meant less of creator Hiroshi Shiibashi's trademark: drawing pages and panels stocked with a menagerie of fantastic, supernatural life forms and magical being-things.
This volume is darker in tone than others. In addition to the threat of imminent danger and death (monsters hunting for human livers), there is gory violence that seems out of place here, but is appropriate in the context in which it's used. Read this book.
POSSIBLE AUDIENCE: Readers of all ages who like fantasy will find in the Shonen Jump Nura: Rise of the Yokai Clan a must-read.
Rating: A /10
Last Updated: August 31, 2023 - 08:12