Nura: Rise of the Yokai Clan Volume 21 manga review
By Leroy Douresseaux
June 4, 2014 - 16:50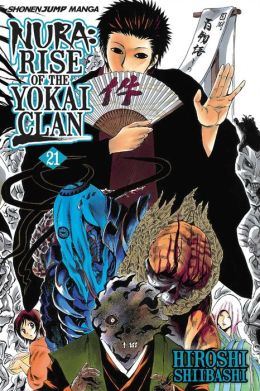 Nura Rise of the Yokai Clan Volume 21 cover image is courtesy of barnesandnoble.com.
Follow me on Twitter.
Rated "T" for Teen
The night belongs to the yokai, the supernatural creatures of Japanese folklore. Middle school student Rikuo Nura is three-fourths human and one-quarter yokai. Rikuo's grandfather is Nurarihyon, the Overlord and Supreme Commander of the Tokyo-based, yokai consortium, the Nura Clan. He wants Rikuo to become the next leader of the Nura Clan – the Lord of a Hundred Demons. When Rikuo's yokai blood awakens, he becomes the clan's future leader ("the Third") and current "Underboss."
The Hundred Stories Clan's conspiracy against the Nura Clan heads for a crucial battle and face-off between Rikuo and the Hundred Stories' most powerful leaders. As Nura: Rise of the Yokai Clan, Vol. 21 (entitled Ghost Story: Aoandon – Chapters 175 to 184) opens, the return of Sanmoto Gorozaemon, the Hundred Stories' leader, seems imminent.
Rikuo and fellow clan member, Yuki Onna, begin the search for Encho, Sanmoto's "mouth." Ryuji, an onmyoji (exorcist), and Itaku, the yokai from another clan who is teaching Rikuo, join them. They discover that the tricky Encho has plotted a game of tag for his pursuers. As the battle looms, the possibility that Sanmoto could be reborn in another form becomes likely. Plus, the Gokadoin clan emerges.
[This volume includes the bonus story, "Kana Ienaga vs. the Shoplifting G-man."]
THE LOWDOWN: The Nura: Rise of the Yokai Clan manga is one of my favorite manga. Creator Hiroshi Shiibashi is constantly visualizing new strange things to draw, and sometimes that creates sensory overload – at least for me.
I have enjoyed "The Hundred Stories Clan" story arc, but I am surprised that it comes to a sudden end in Nura: Rise of the Yokai Clan Volume 21. I don't know if any readers expected Shiibashi to close this storyline the way he did. A lot of the pages in this volume are big splash pages that one would expect in a superhero comic book. The awesome battles in this story are straight out of Jack Kirby.
I am still trying to process what happened in Vol. 21. Shiibashi is already prepared to throw new strange things at us. That is why I come back to Nura: Rise of the Yokai Clan.
POSSIBLE AUDIENCE: Readers looking for imaginative and scary shonen will want the Shonen Jump title, Nura: Rise of the Yokai Clan.
Rating: A /10
Last Updated: August 31, 2023 - 08:12