Nura: Rise of the Yokai Clan Volume 25 manga review
By Leroy Douresseaux
February 16, 2015 - 21:39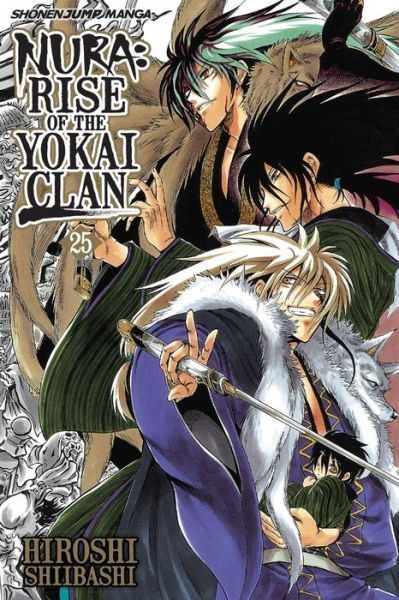 Nura: Rise of the Yokai Clan Volume 25 cover image is courtesy of barnesandnoble.com.
Follow me on
Twitter
.
Rated "T" for "Teen"
While the day belongs to humans, the night belongs to
yokai
, the supernatural creatures of Japanese folklore. Middle school student,
Rikuo Nura
, is three-fourths human and one-quarter yokai. His paternal grandfather is
Nurarihyon
, the
Overlord
and Supreme Commander of the Tokyo-based, yokai consortium, the
Nura Clan
. He wants Rikuo to become the next leader of the Nura Clan – the Lord of a Hundred Demons. When Rikuo's yokai blood awakens, he becomes the clan's future leader ("the Third") and current "Underboss."
As
Nura: Rise of the Yokai Clan

, Vol. 25
(entitled
He Who Equips True Fear
– Chapters 209 to 210) opens, Rikuo and
Yuki-onna
race to
Aoi Spiral Castle
. There, the ayakashi (yokai) monsters,
Abe No Seimei
and
Hagoromo-Gitsune
meet. Surprise: Seimei is Hagoromo-Gitsune's son, and now they prepare for battle – the son for a world of superior yokai and the mother for a world for both yokai and humans. Now, Rikuo, who is connected to both of them, joins the battle for a three-way showdown that will decide everything.
[This volume also includes five bonus stories.]
THE LOWDOWN:
The
Nura: Rise of the Yokai Clan
manga reminds me of Naruto, but it won't last as long as that manga starring the world's favorite boy-ninja.
Nura: Rise of the Yokai Clan Volume 25
is the final volume of the series. This last graphic novel is for longtime readers of the series. It is our happy ending, but those who become new readers by going back to the beginning will discover something wonderful and will eventually get to enjoy Vol. 25's happy ending.
I can say that I am surprised at how things have come to pass in the story. Some villains and monsters turn out not to be the adversaries that they seemed initially. Along the way,
Hiroshi Shiibashi
did not let things stay the same, and the series thrived for it. At the end of the book is a two-page goodbye and thank-you to fans in which Shiibashi says that we will see some of these characters again. That's a good thing. Also, "Bonus Story 4: In the Village of Half-Yokai" features some of the most beautiful comic book art that I have seen in awhile.
POSSIBLE AUDIENCE:
Readers looking for imaginative shonen will want to see this Night Parade of a Hundred Demons in the Shonen Jump title,
Nura: Rise of the Yokai Clan
.
Rating: A- /10
Last Updated: August 31, 2023 - 08:12