Nura: Rise of the Yokai Clan: Volume 15 manga review
By Leroy Douresseaux
June 5, 2013 - 13:15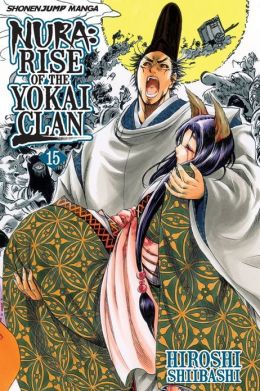 Nura Rise of the Yokai Clan Volume 16 cover image is courtesy of barnesandnoble.com.
Rated "T" for Teen
Middle school student Rikuo Nura is three-fourths human and one-quarter yokai. Yokai are the supernatural creatures of Japanese folklore, but Rikuo just wants to be a normal boy. His grandfather is Nurarihyon, the Overlord and Supreme Commander of the Tokyo-based, yokai consortium, the Nura Clan. Nurarihyon wants Rikuo to take his place as the next leader of the Nura Clan – the Lord of a Hundred Demons. Rikuo is reluctant, but at night, his yokai blood awakens. He becomes the "Third," the future leader and current "Underboss" of Nura Clan.
As Nura: Rise of the Yokai Clan, Vol. 15 (entitled Fragments of the Past – Chapters 122 to 129) opens, the battle against Hagoromo-Gitsune and her Kyoto yokai allies continues. Hagoromo-Gitsune, once defeated by Nurarihyon, is the great Kyoto yokai that wants to revive Nue, a powerful yokai destined to rule over both yokai and humans.
Kurotabo, the Nura Clan's Father of Destruction and one of the clan's best warriors, battles Kidomaru, Hagoromo-Gitsune's ally. Then, Kurotabo teaches Rikuo/The Third the fighting technique, "Equip." He will need it as he prepares to face Hagoromo-Gitsune. Also, the birthing begins.
[This volume includes two bonus stories, "Mysterious Tales of Ukiyoe Middle School" and "Rikuo Has That One Dream Again."]
THE LOWDOWN: As Naruto does, the Nura: Rise of the Yokai Clan manga has a story that focuses on a wide-ranging war composed of numerous main battles and side skirmishes. The author can stretch such an epic war over months and even years – talk about decompression.
When executed with thought and skill, such a long-running story can trap readers for the duration. Why? The sub-plots and action are good, but quality characters sell the long narrative. At this point in his long war, Hiroshi Shiibashi, creator of Nura: Rise of the Yokai Clan, throws in a surprise or two, including more details about Hagoromo-Gitsune and depth in the examination of her motivation. That will keep many of us coming back for Nura for many more volumes.
POSSIBLE AUDIENCE: Readers of all ages who like fantasy and also fans of Mike Mignola's monster comics will want the Shonen Jump title, Nura: Rise of the Yokai Clan.
Rating: A /10
Last Updated: August 31, 2023 - 08:12