Nura: Rise of the Yokai Clan Volume 10
By Leroy Douresseaux
August 8, 2012 - 15:39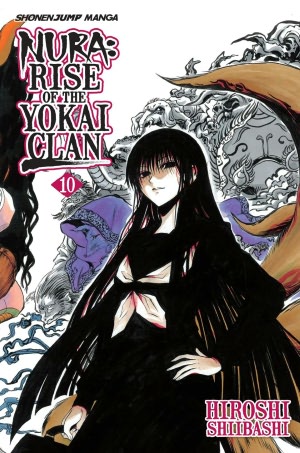 Nura Rise of the Yokai Clan Volume 10 cover image is courtesy of barnesandnoble.com.
Rated "T" for Teen
The day belongs to humans, but the night belongs to yokai. These supernatural creatures of Japanese folklore thrive on fear. Middle school student Rikuo Nura is three-fourths human and one-quarter yokai. His grandfather is Nurarihyon, the Overlord and Supreme Commander of the powerful yokai consortium, the Tokyo-based Nura Clan. Nurarihyon wants Rikuo to take his place as the next leader of the Nura Clan. Rikuo is reluctant, but at night, his yokai blood awakens. He becomes the "Third," the future leader and current "Underboss" of Nura Clan.
As Nura: Rise of the Yokai Clan, Vol. 10 (entitled Kyoto in Darkness) opens, the monstrously powerful yokai, Hagoromo-Gitsune, roams free. Held prisoner for 400 years, she now leads an army of yokai that have Kyoto under siege. They continue their bid to break the eight seals of Hidemoto, which will release more monstrous and powerful yokai.
They are attempting to break the sixth seal, but Rikuo's friend, Yura Keikain, is determined to stop them. Yura is an Onmyoji, an exorcist that specializes in yokai. She is about to reveal the extent of her powers, but first, she must take on an onmyoji-turned traitor. Meanwhile, Rikuo and his new allies, the yokai of the village of Tono, head for Kyoto aboard a weird flying boat.
THE LOWDOWN: Not only is the Nura: Rise of the Yokai Clan manga one of the best yokai-themed manga; it is also one of the most imaginative fantasy comic books in North America. In terms of fantasy creatures, beings, and entities, comic books have probably not seen its like since Neil Gaiman's The Sandman.
Creator Hiroshi Shiibashi crams his pages and many of the panels with a menagerie of fantastic supernatural life forms and magical things. Shiibashi's graphic style emphasizes the eerie and the inventive. Reading Nura: Rise of the Yokai Clan, I get the idea that the fantastic is touching my mind.
POSSIBLE AUDIENCE: Readers of all ages who like fantasy will find in Nura: Rise of the Yokai Clan a must-read.
Rating: A /10
Last Updated: August 31, 2023 - 08:12