Master Keaton: Volume 6 manga review
By Leroy Douresseaux
March 16, 2016 - 14:13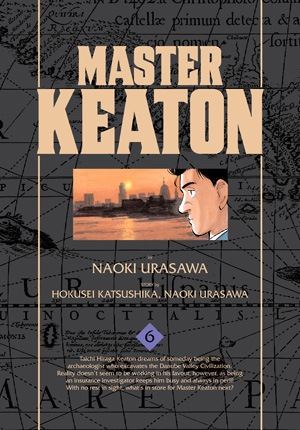 Master Keaton Volume 6 cover image
Rated "T+" for "Older Teen"
One of the early manga from award-winning mangaka
Naoki Urasawa
,
Master Keaton
was first published in the late 1980s. A manga of suspense and adventure, it was created and drawn by Urasawa, who co-produced the story with
Hokusei Katsushika
and
Takashi Nagasaki
.
For the first time, VIZ Media is publishing
Master Keaton
in English, as a 12-volume, graphic novel series in a deluxe format called the "Perfect Edition." Each volume includes a few pages of full-color material to go along with the black and white comics. Since December 2014,
Master Keaton
has been published quarterly under the VIZ Signature imprint.
Master Keaton
focuses on 30-something
Taichi Hiraga Keaton
, the son of a Japanese zoologist and an English noblewoman and mathematician. Although Keaton is an archaeology professor, most of the series' action focuses on Keaton's job as a part-time insurance investigator. Known for his successful and unorthodox methods of investigation, Keaton's abilities are based on his Oxford education in archaeology and also on his time as a member of the British elite special forces, the SAS (Special Air Service). Keaton uses his knowledge and combat training to uncover buried secrets, to thwart would-be villains, to pursue the truth, and sometimes to lend a helping hand.
Master Keaton: The Perfect Edition

, Vol. 6
(11 chapters) opens with "The High Road of Gambling." Keaton attempts to reconcile two World War II British prisoners of war. These childhood, life-long friends have fallen out over gambling and cheating, from which both have benefited. In "Santa from the West," an East German doctor is wanted for murder and drug-dealing, while his wife and daughter await him on Christmas Eve. How can Keaton help them?
Keaton becomes involved in a case concerning the mafia and its extensive reach across the United Kingdom and Europe. Also, an old enemy of Keaton returns, and Keaton uses the story of a disgraced king to help a man heal. Plus, Keaton's daughter,
Yuriko
, finds "Love in May."
THE LOWDOWN:
Yes, it is harder to find ways in which I can praise the
Master Keaton
manga. I rarely have a complaint about the work of mangaka Naoki Urasawa, whom I consider one of the greatest comics and manga creators of all time. It is my pleasure to read his works.
I must say that I find
Master Keaton: The Perfect Edition Volume 6
to be a graphic novel of extremes. There are 11 chapters offering 10 stories, as there is only one two-chapter arc in this volume. The extremes concern love and death. The love is real, honest, heartfelt, and ageless. Death comes from cycles of revenge and homicidal envy. It makes for great reading, and death and hate feel real, while the love and happiness lifts readers' spirits. As an added bonus, readers meet a new character,
Daniel
, a colleague of Keaton's whom I believe has not appeared prior to this volume.
My one frustration about this manga is that Urasawa does not delve deeply into the interior life of Keaton. He practically opens the "guest stars" for excavation, obviously because that is needed in order to tell their stories. Urasawa also offers frequent glimpses into Keaton's family and close associates. However, he present Keaton pretty much as a paladin, revealing more about his professional, intellectual, and physical talents than he does about what is inside Keaton's head.
POSSIBLE AUDIENCE:
Fans of Naoki Urasawa must have the VIZ Signature series,
Master Keaton
.
A+
Rating: A+ /10
Last Updated: September 6, 2021 - 08:15