Master Keaton: Volume 3 manga review
By Leroy Douresseaux
June 18, 2015 - 19:55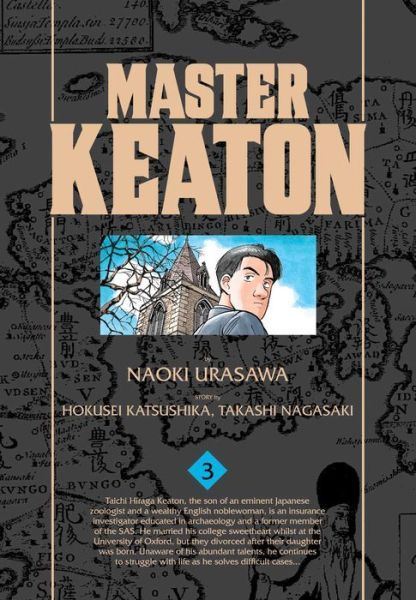 Master Keaton Volume 3 cover image is courtesy of barnesandnoble.com.
Rated "T+" for "Older Teen"
Master Keaton
is one of the early works of award-winning mangaka (creator)
Naoki Urasawa
. First published in the late 1980s, this suspense manga was created and drawn by Urasawa, who co-produced the story with
Hokusei Katsushika
and
Takashi Nagasaki
.
For the first time, the series is being released in English. VIZ Media is publishing
Master Keaton
as a 12-volume manga series in a deluxe graphic novel format, with each volume including a few pages of full-color material to go along with the black and white comics. Since December 2014,
Master Keaton
has been published quarterly under the company's VIZ Signature imprint and is rated "'T+' for Older Teens." Each volume of
Master Keaton
carries an MSRP of $19.99 in the United States, $22.99 in Canada, and £12.99 in the United Kingdom.
Master Keaton
focuses on 30-something
Taichi Hiraga Keaton
, the son of a Japanese zoologist and an English noblewoman and mathematician. Although Keaton is an archaeology professor, most of the series' action focuses on Keaton's job as a part-time insurance investigator. Known for his successful and unorthodox methods of investigation, Keaton's abilities are based on his Oxford education in archaeology and his time as a member of the British elite special forces, the SAS (Special Air Service). Master Keaton uses his knowledge and combat training to uncover buried secrets, thwart would-be villains, pursue the truth, and sometimes lend a helping hand.
Master Keaton

, Vol. 3
(12 chapters) opens in the village of
Fionn
in the Galloway region of
Scotland
. There, Keaton is investigating the movement to protect a local landmark, but he finds more: a widower, a missing boy, and "
The Wall of Joy
." Keaton is a kidnapping negotiator in a two-part story, and tries to solve the mystery of "
The Flying Hero
" in another. During the dog days of summer in the Pyrenees Mountain in
Spain
, Keaton investigates insurance fraud and fights for his life against a peculiar, but murderous opponent. In "
Charlie
," a former school rival matches wits with Keaton.
THE LOWDOWN:
The
Master Keaton
manga is the creation of a master mangaka, Naoki Urasawa, of whom I am a great admirer. Still, I had some reservation about
Master Keaton
after reading the first volume, which were quickly swept away after I read the second volume.
Unlike previous volumes, chapters contained in
Master Keaton Volume 3
do not offer much insight into the private side and into the personality of Keaton. However, many of the stories here reveal that there is some fair amount of research that goes into the series. It is this attention to detail by Master Urasawa and his collaborators that makes Master Keaton and other Urasawa manga some of the world's best comics of the last 30 years.
A new reader can start with any volume or with any chapter, for that matter, and be able to immediately come to understand this series. The translation and English adaptation of
Master Keaton
by
John Werry
makes this manga both easy to ready and exceptionally engaging.
POSSIBLE AUDIENCE:
Fans of Naoki Urasawa must have the VIZ Signature series,
Master Keaton
.
Rating: A+ /10
Last Updated: August 31, 2023 - 08:12