Master Keaton: The Perfect Edition Volume 7 manga review
By Leroy Douresseaux
July 2, 2016 - 14:21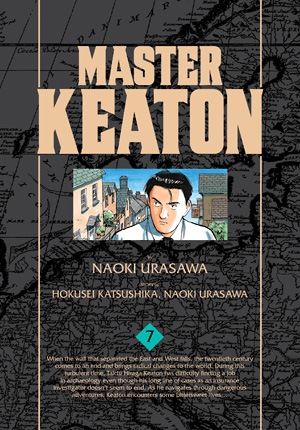 Master Keaton: The Perfect Edition Volume 7 cover image
Rated "T+" for "Older Teen"
VIZ Media is publishing
Master Keaton
for the first time in English. This is one of the early manga from award-winning mangaka,
Naoki Urasawa
.
Master Keaton
was first published in the late 1980s and was created and drawn by Urasawa, who co-produced the story with
Hokusei Katsushika
and Takashi Nagasaki.
The English-language version of
Master Keaton
is a 12-volume, graphic novel series, published in a deluxe format called the "Perfect Edition." Each volume includes a few pages of full-color material to go along with the black and white comics. Since December 2014,
Master Keaton
has been published quarterly under the VIZ Signature imprint.
Master Keaton
focuses on 30-something
Taichi Hiraga Keaton
, the son of a Japanese zoologist and an English noblewoman and mathematician. Although Keaton is an archaeology professor, most of the series' action focuses on Keaton's job as a part-time insurance investigator. Known for his successful and unorthodox methods of investigation, Keaton's abilities are based on his Oxford education in archaeology and also on his time as a member of the British elite special forces, the
S.A.S.
(Special Air Service). Keaton uses his knowledge and combat training to uncover buried secrets, to thwart would-be villains, to pursue the truth, and sometimes to lend a helping hand.
Master Keaton: The Perfect Edition

, Vol. 7
(12 chapters) opens with "Behind the Mask." Keaton is working as an insurance investigator. He has tracked down
Eugene Foster
, the star of the beloved 1960s TV Western,
Wild Kid Wolf,
for fraud. But trouble in the air may waylay all plans.
"The Curse of Isis" arrives at the estate of
Lord Malborough
in England. Now, Keaton must unravel what is superstition and what is truth and lies. "In the Shadow of Victory" returns Keaton to the fold of the S.A.S. "The Iron Fortress" takes Keaton to the ruins of a Italian mountain city from the middle ages for a tale of revenge unleashed.
THE LOWDOWN:
We are at the halfway point of VIZ Media's publication of the
Master Keaton
manga. The series remains a high quality adventure, mystery, and crime-thriller. Of course, I rarely have a complaint about the work of mangaka Naoki Urasawa, whom I consider one of the greatest comics creators of all time.
Master Keaton: The Perfect Edition Volume 7
finds Keaton in top form as both an insurance investigator and as a troubleshooter. All 12 stories are single-chapter tales of excellent quality. I don't know if I can pick a favorite. The mountain city-set story introduced some new things to me. "Homecoming" is an edgy father-son story, and "The Angel's Wings" focuses on the father-son relationship from a legacy point of view – with an canine spin. I guess I'm saying that
Master Keaton
is a fantastic anthology manga.
POSSIBLE AUDIENCE:
Fans of Naoki Urasawa must have the VIZ Signature series,
Master Keaton
.
A+
Rating: A+ /10
Last Updated: September 6, 2021 - 08:15