Master Keaton: Volume 4 manga review
By Leroy Douresseaux
September 21, 2015 - 19:14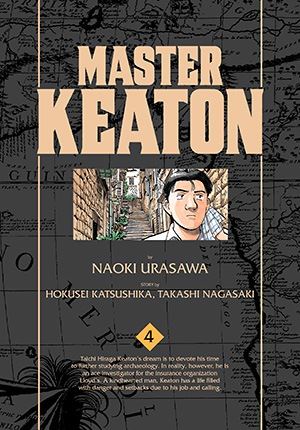 Master Keaton Volume 4 cover image
Rated "T+" for "Older Teen"
Master Keaton
, one of the early works of award-winning mangaka
Naoki Urasawa
, was first published in the late 1980s. This suspense manga was created and drawn by Urasawa, who co-produced the story with
Hokusei Katsushika
and
Takashi Nagasaki
.
For the first time, the series is being published in English. VIZ Media is publishing
Master Keaton
as a 12-volume manga series in a deluxe graphic novel format, with each volume including a few pages of full-color material to go along with the black and white comics. Since December 2014,
Master Keaton
has been published quarterly under the company's VIZ Signature imprint.
Master Keaton
focuses on 30-something
Taichi Hiraga Keaton
, the son of a Japanese zoologist and an English noblewoman and mathematician. Although Keaton is an archaeology professor, most of the series' action focuses on Keaton's job as a part-time insurance investigator. Known for his successful and unorthodox methods of investigation, Keaton's abilities are based on his Oxford education in archaeology and his time as a member of the British elite special forces, the
SAS
(Special Air Service). Master Keaton uses his knowledge and combat training to uncover buried secrets, to thwart would-be villains, to pursue the truth, and sometimes to lend a helping hand.
Master Keaton

, Vol. 4
(12 chapters) opens with a three-chapter story that finds Keaton helping to unravel a decades-old mystery involving the
Romani
(Gypsies), the
Nazis
, and betrayal. The answer hinges on an old story, "
The Pied Piper of Hamelin
." Then, in
London
, Keaton helps a South African immigrant cab driver find a measure of redemption.
In "The Missing Blue Bird," Keaton is in
West Germany
and becomes involved in a strange missing child case. Keaton fights an avalanche and helps a haunted man in "White Snow and Noah's Ark." Curses, guilt, grief, and the great outdoors come together in "Safehouse."
THE LOWDOWN:
The
Master Keaton
manga is the creation of a master mangaka, Naoki Urasawa, whom I consider one of the greatest comic book creators of all time. It is hard to stop reading a volume of VIZ Media's collected edition of this series, and I always want more after I finish reading the last chapter of each volume.
Master Keaton Volume 4
focuses on melancholy people and the need for redemption. Some of this redemption takes place in the fast-paced thriller-side of
Master Keaton
, which does the suspense thriller as well as any potboiler novel or Hollywood film. However, poignant drama permeates Volume 4, so that even the thrillers contain heartbreaking stories of characters that come to a tragic end. Of course, Keaton's father,
Taihei Hiraga
, has a solo story, and that is always the spoon full of sugar that helps the heartache go down.
POSSIBLE AUDIENCE:
Fans of Naoki Urasawa must have the VIZ Signature series,
Master Keaton
.
Rating: A+ /10
Last Updated: August 31, 2023 - 08:12