Master Keaton: Volume 10 manga review
By Leroy Douresseaux
September 14, 2017 - 16:37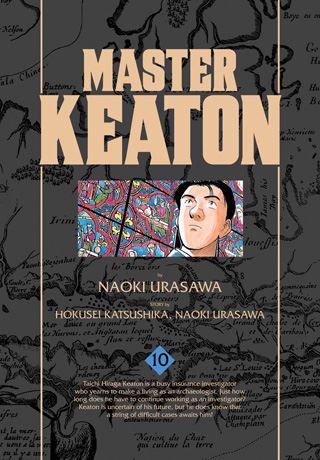 Master Keaton Volume 10 cover image
Rated "T+" for "Older Teen"
VIZ Media is almost through with its initiative to publish
Master Keaton
in English for the first time. This is one of the early works from award-winning mangaka,
Naoki Urasawa
. Master Keaton was first published beginning in the late 1980s and was created and drawn by Urasawa, who co-produced the story with
Hokusei Katsushika
and sometimes with frequent collaborator,
Takashi Nagasaki
.
The English-language version of Master Keaton is a 12-volume, graphic novel series, published in a deluxe format called the "Perfect Edition." Each volume includes a few pages of full-color material to go along with the black and white comics. Since December 2014, Master Keaton has been published quarterly under the VIZ Signature imprint.
The hero of Master Keaton is
Taichi Hiraga Keaton
, the 30-something son of a Japanese zoologist and an English noblewoman and mathematician. Although Keaton is an archaeology professor, most of the series' action focuses on Keaton's job as a part-time insurance investigator. Known for his successful and unorthodox methods of investigation, Keaton's abilities are based on his Oxford education in archaeology and also on his time as a member of the British elite special forces, the S.A.S. (Special Air Service). Keaton uses his knowledge and combat training to uncover buried secrets, to thwart would-be villains, to pursue the truth, and sometimes just to lend a helping hand.
Master Keaton: The Perfect Edition

, Vol. 10
(12 chapters) opens with the story, "What Makes a Good Pub," the story of a pub owner, his loyal apprentice, his wayward son, and murder most foul. "Happy New Year" is the story of Keaton helping a mother who is trying to reunite with the young daughter she practically abandoned.
The two-part "Resident of a Lightless World" and "The Woman Who Brought Light" is an East German-set tale about Neo-Nazis, the smuggling of artifacts, and revenge for the murder of a young Jewish woman. Another two-part tale, "The Village That God Loved" and "The Village of the Saint" will remind some of the notorious British film, "The Wicker Man."
THE LOWDOWN:
Yes, the Master Keaton manga is still a high quality adventure, mystery, and crime-thriller manga. We are entering the fourth quarter of VIZ Media's publication of this acclaimed manga and unfortunately are heading into a manga homestretch.
Master Keaton: The Perfect Edition Volume 10
offers tales of reunion and reconciliation. It also offers tales of murder with odd, even eccentric plots. I would call this one of the better volumes, but most Master Keaton graphic novels are top-notch. I still recommend Master Keaton.
I READS YOU RECOMMENDS:
Fans of Naoki Urasawa must have the VIZ Signature series,
Master Keaton
.
A
9 out of 10
Rating: 9 /10
Last Updated: September 6, 2021 - 08:15