Master Keaton: Volume 12 manga review
By Leroy Douresseaux
September 21, 2017 - 23:49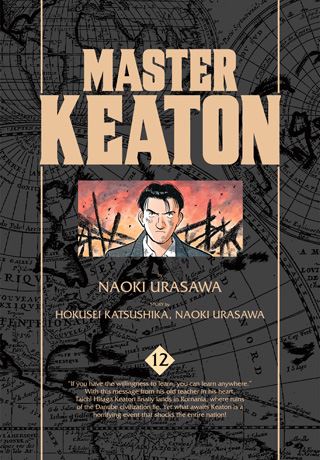 Master Keaton Volume 12 cover image
Rated "T+" for "Older Teen"
VIZ Media has completed its initiative to publish
Master Keaton
in English for the first time. This is one of the early works from award-winning mangaka,
Naoki Urasawa
. Master Keaton was first published beginning in the late 1980s and was created and drawn by Urasawa, who co-produced the story with
Hokusei Katsushika
and frequent collaborator,
Takashi Nagasaki
.
The English-language version of Master Keaton is a 12-volume, graphic novel series, published in a deluxe format called the "Perfect Edition." Each volume includes a few pages of full-color material to go along with the black and white comics. VIZ Media began publishing Master Keaton quarterly under the VIZ Signature imprint in December 2014.
The hero of Master Keaton is
Taichi Hiraga Keaton
, the 30-something son of a Japanese zoologist and an English noblewoman and mathematician. Although Keaton is an archaeology professor, he does not have a job at a university. Thus, most of the series' action focuses on Keaton's job as a part-time insurance investigator. Known for his successful and unorthodox methods of investigation, Keaton's abilities are based on his Oxford education in archaeology and also on his time as a member of the British elite special forces, the S.A.S. (Special Air Service). Keaton uses his knowledge and combat training to uncover buried secrets, to thwart would-be villains, to pursue the truth, and sometimes just to lend a helping hand.
Master Keaton: The Perfect Edition

, Vol. 12
(12 chapters) opens with the story, "The Scholar's Day." Keaton is on the verge of finally getting a job at a university, but he discovers that his superiors are quite disappointing. Then, Keaton learns of the recent death of his mentor,
Professor Urey W. Scott
. It was through Prof. Scott that Keaton came to believe European civilization was born on the plains around the
Danube
river. Scott may have left something behind for Keaton, but the professor's daughter,
Maggie Scott
, is not impressed with Keaton.
Later, Keaton heads to
Romania
to investigate a car theft and smuggling ring. The case seems like providence to Keaton, as Prof. Scot's final work may have discovered in Romania the proof for he and Keaton's Danube theories. However, Keaton becomes involved in a conspiracy that ties into Romania tumultuous recent history, and his quest to help an orphaned boy may cost Keaton his own life at the place that could provide the answers he seeks. On the lighter side, Keaton's daughter,
Yuriko
, makes plans to attend Oxford, like her father, and is laser-focused on her future... until a young man with bad luck captures her interest.
THE LOWDOWN:
The Master Keaton manga has come to an end with the publication of the twelfth graphic novel in its English-language publication. And as it was for the end of 20th Century Boys and Pluto, I am having a difficult time accepting that the series has ended. Dammit, I want more!
Master Keaton: The Perfect Edition Volume 12
offers some of the best of what has become familiar in this series. We get international intrigue filled with murder, secret police, vicious killers, people in need of a hero, and buried treasure. There is some nice family comedy featuring Keaton's daughter and his father, Taihei Hiraga, and some surprisingly entertaining workplace drama featuring a longtime colleague, and old friend/rival, and a newcomer. As sad as I am about the ending, at least I know that Keaton is leaving us behind to do what he has wanted to do for a long time.
Hopefully, Master Keaton will remain in print for a long time to come, but it is also available on various platforms for readers who prefer to read digital manga.
I READS YOU RECOMMENDS:
Fans of Naoki Urasawa must have the VIZ Signature series,
Master Keaton
.
A+
10 out of 10

Rating: 10 /10
Last Updated: September 6, 2021 - 08:15