Master Keaton: The Perfect Edition Volume 9 manga review
By Leroy Douresseaux
March 22, 2017 - 22:19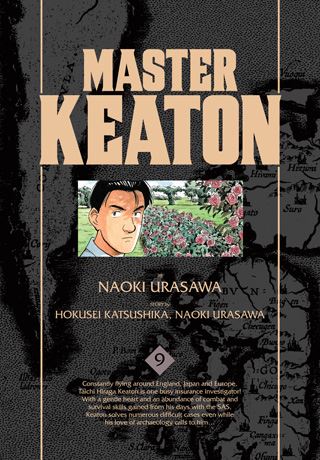 Master Keaton Volume 9 cover image
Rated "T+" for "Older Teen"

VIZ Media is currently publishing the manga,
Master Keaton
, for the first time in English. This is one of the early works from award-winning mangaka,
Naoki Urasawa
. Master Keaton was first published beginning in the late 1980s and was created and drawn by Urasawa, who co-produced the story with
Hokusei Katsushika
and sometimes with frequent collaborator, Takashi Nagasaki.
The English-language version of Master Keaton is a 12-volume, graphic novel series, published in a deluxe format called the "Perfect Edition." Each volume includes a few pages of full-color material to go along with the black and white comics. Since December 2014, Master Keaton has been published quarterly under the VIZ Signature imprint.
The hero of Master Keaton is
Taichi Hiraga Keaton
, the 30-something son of a Japanese zoologist and an English noblewoman and mathematician. Although Keaton is an archaeology professor, most of the series' action focuses on Keaton's job as a part-time insurance investigator. Known for his successful and unorthodox methods of investigation, Keaton's abilities are based on his Oxford education in archaeology and also on his time as a member of the British elite special forces, the S.A.S. (Special Air Service). Keaton uses his knowledge and combat training to uncover buried secrets, to thwart would-be villains, to pursue the truth, and sometimes to lend a helping hand.
Master Keaton: The Perfect Edition

, Vol. 9
(12 chapters) opens with the story, "Twilight of the Migratory Birds." In Cape Leuca, Southern Italy, Keaton gets involved in the dispute between a retired hit man and the inexperienced young hit man who wants to kill him. In "The Forest Where a God Lives," has a local forest god named "Hili" returned to stop development in the forest?
"In the Legendary Faint Smile," a young woman from Japan must learn to smile again, like the king's youngest daughter in local legend on Lenos Island, Greece. In "Knight of the White Moon," Keaton reluctantly guards a media mogul whose exposé on the Falklands War may cost him his life.
THE LOWDOWN:
The Master Keaton manga remains a high quality series that offers adventure, mystery, and crime-thriller. We have now finished the third quarter of VIZ Media's publication of this acclaimed manga and head into a manga homestretch.
Master Keaton: The Perfect Edition Volume 9
offers the usual – some light comic stories featuring Keaton's father, Taihei Hiraga. This volume also includes a story that is shamefully contrived and implausible, "A Gift from the Dead." I must say that the stories in this volume, while entertaining, do not show Master Keaton at its best, although they are good enough to be some creators' best work. I would say that this is typical fare for this series, so I am curious to see what the final three volumes will be like. I still recommend Master Keaton.
I READS YOU RECOMMENDS:
Fans of Naoki Urasawa must have the VIZ Signature series,
Master Keaton
.
B+
Rating: B+ /10
Last Updated: September 6, 2021 - 08:15