Master Keaton: The Perfect Edition Volume 8 manga review
By Leroy Douresseaux
October 1, 2016 - 19:07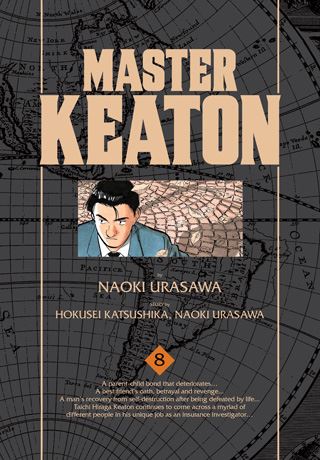 Master Keaton Volume 8 cover image
Rated "T+" for "Older Teen"
VIZ Media is currently publishing the manga,
Master Keaton
, for the first time in English. This is one of the early manga from award-winning mangaka,
Naoki Urasawa
.
Master Keaton
was first published beginning in the late 1980s and was created and drawn by Urasawa, who co-produced the story with
Hokusei Katsushika
and sometimes with frequent collaborator, Takashi Nagasaki.
The English-language version of
Master Keaton
is a 12-volume, graphic novel series, published in a deluxe format called the "Perfect Edition." Each volume includes a few pages of full-color material to go along with the black and white comics. Since December 2014,
Master Keaton
has been published quarterly under the VIZ Signature imprint.
The hero of
Master Keaton
is
Taichi Hiraga Keaton
, the 30-something son of a Japanese zoologist and an English noblewoman and mathematician. Although Keaton is an archaeology professor, most of the series' action focuses on Keaton's job as a part-time insurance investigator. Known for his successful and unorthodox methods of investigation, Keaton's abilities are based on his Oxford education in archaeology and also on his time as a member of the British elite special forces, the
S.A.S.
(Special Air Service). Keaton uses his knowledge and combat training to uncover buried secrets, to thwart would-be villains, to pursue the truth, and sometimes to lend a helping hand.
Master Keaton: The Perfect Edition

, Vol. 8
(12 chapters) opens with the story, "Special Mask." Keaton and his partner, Daniel, are eating at a family-run Chinese restaurant in London when they become involved in a tale of cross-cultural cuisine and a legendary Chinese revolutionary. Speaking of partnership, learn how Keaton and
Daniel O'Connell
became partners in "An Investigator is Born."`
The stories, "Crimson Wind" and "Scarlet Sadness" tell the tale of three Russian boys and a pledge that leads to secrets, lies, and assassination. A disgraced East German Olympian learns about "Family." Also, enjoy a story of a childhood friendship that turns into an adult professional relationship, with a murder plot included, in "Christmas Eve Encounter."
THE LOWDOWN:
We are now in the second half of VIZ Media's publication of the
Master Keaton
manga. The series remains a high quality adventure, mystery, and crime-thriller, and I am starting to have a difficult time pinpointing a best volume or even a favorite volume. Still, I think I can add this current volume to both "best of" and "my favorites" lists.
Master Keaton: The Perfect Edition Volume 8
revolves around the storytelling holy trinity of redemption, reconciliation, and retribution. There are no filler stories in Vol. 8, although creator Naoki Urasawa and his collaborators have occasionally offered one-off puff pieces here and there. Every story has a poignant moment, and many have an ending that gets you right here (hand over heart). Also, the former Soviet Union comes up quite a bit in this volume, which makes sense, as the USSR's demise was of international interest at the time these stories were originally produced.
POSSIBLE AUDIENCE:
Fans of Naoki Urasawa must have the VIZ Signature series,
Master Keaton
.
A+
Rating: A+ /10
Last Updated: September 6, 2021 - 08:15