Library Wars: Volume 6
By Leroy Douresseaux
October 5, 2011 - 09:21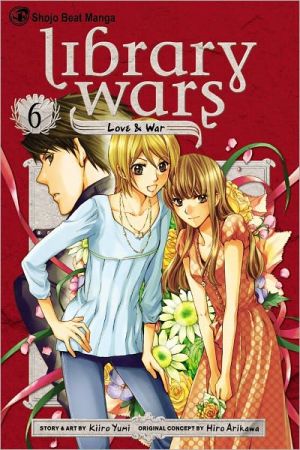 Library Wars Volume 6 cover image is courtesy of barnesandnoble.com.
Rated "T+" for "Older Teen"
Because of the Media Betterment Act, the national government can seize any books it deems offensive for any reason. In response, libraries and local governments formed the Library Forces, essentially an army to defend books and to protect library collections from the federal government. Library Wars focuses on two characters: Iku Kasahara, a young woman who is new to the Library Forces, and Atsushi Dojo, her instructor and a Sergeant First Class.
As Library Wars: Love & War, Vol. 6 begins, its Valentine's Day and giving out chocolates to the one you love can be confusing, especially when you're clumsy Iku and you're afraid to declare your love to Dojo. Next, the periodical, Weekly New World, revives a controversial story with explosive new information, which puts Musashino Library and the Library Forces in a tough position. Finally, the volume closes with an adventure and lesson in brotherly love.
THE LOWDOWN: I've described Library Wars as a sort of shojo romance version of Motoro Mase's Ikigami. They are similar, but Library Wars does not have Ikigami's dark overtones or edginess, nor does it have the threat of state-sponsored murder hanging over the narrative. In a way, Library Wars seems like the kind of thing a high school fangirl would come up with if she wanted to mix lovelorn teen romance with her science fiction interests.
This is a hit and miss series. Some storylines are melodramatic, but good; others are a little silly and seem like amateur comics. So far, each volume of Library Forces that I've read have offered both, but I enjoy what interests me, and the childish stuff doesn't really bother me. The idea of a library army is nonsensical, but this is still likeable.
POSSIBLE AUDIENCE: Readers who want shojo romance with a light sci-fi twist will like Library Wars.
B
Last Updated: February 5, 2023 - 09:06