Library Wars: Volume 5
By Leroy Douresseaux
June 1, 2011 - 14:33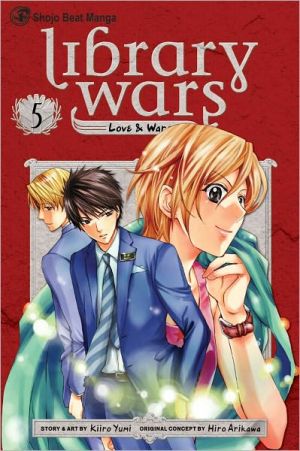 Library Wars Volume 5 cover image is courtesy of barnesandnoble.com.
Rated "T+" for "Older Teen"
The Media Betterment Act allows the national government to seize any books it deems offensive for any reason. In response, libraries and local governments form the Library Forces, essentially an army to defend books, to protect their collections from the federal government. The story focuses on two characters: Iku Kasahara, a young woman who is new to the Library Forces, and Atsushi Dojo, her instructor and a Sergeant First Class.
As Library Wars: Love & War, Vol. 5 begins, Iku is still dealing with her visiting parents. Her mother delivers a bombshell; she wants Iku to return home with them. Then, Sergeant 1st Class Mikihisa Komaki reconnects with an old friend, Marie Nakazawa, but that leads to his arrest on charges of abusing a person with disabilities.
THE LOWDOWN: A sort of shojo romance version of Motoro Mase's Ikigami, Library Wars in a science fiction or speculative fiction concept. In a way, it is standard romantic melodrama, complete with a plucky heroine who longs for her man's affections. However, what it does, Library Wars does well, and that is pretty art and teen soap opera.
POSSIBLE AUDIENCE: Readers who want shojo with a twist will want to try Library Wars.
B+
Last Updated: August 31, 2023 - 08:12