Library Wars: Volume 8 manga review
By Leroy Douresseaux
September 2, 2012 - 16:12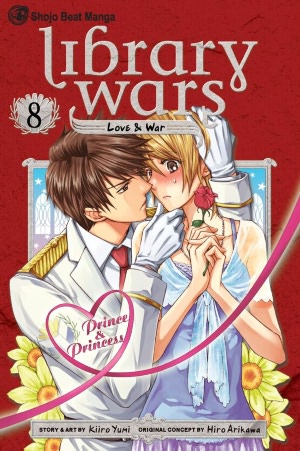 Library Wars Volume 8 cover image is courtesy of barnesandnoble.com.
Rated "T+" for "Older Teen"
In the near future, the Media Betterment Act allows the federal government to seize any books it deems offensive for any reason. In response, libraries and local governments create the Library Forces, a military group that protects library collections from the federal government. Library Forces focuses on two characters: Iku Kasahara, a young woman who is new to the Library Forces, and Atsushi Dojo, her instructor and a Sergeant First Class. Both are stationed at Musashino Main Library.
Future of the Library is a research group that, like the Library Forces, is against censorship. However, Future of the Library's beliefs on how to protect libraries from censorship are practically counter to that of the Library Forces. As Library Wars: Love & War, Vol. 8 begins, Iku is being investigated for her alleged role in a so-called book burning incident. Satoshi Tezuka, the brother of Corporal Hikaru Tezuka of the Library Forces, promises to help Kasahara if she in turn helps him. Satoshi wants Iku to convince Hikaru to join Future of the Library, the group run by Satoshi.
Is Iku being manipulated? When Dojo comes to Iku's rescue, will her feelings for him also be used against her? Meanwhile, Iku's colleague, Asako Shibazaki, comes to a decision about a would-be-suitor who may be manipulating her.
THE LOWDOWN: For so unusual a concept, the Library Wars manga is rather usual as a shojo manga. The manga, which is based upon author Hiro Arikawa's light novel series, The Library War, basically comes down to a young woman pining away from the man of her dreams. I can take it or leave it, but sometimes Iku Kasahara's crying about Atsushi Dojo makes me think that the character is much too needy, if not outright in need of therapy.
What I enjoy are the storylines, which sometimes seem like subplots next to the romance, of intrigue and retaliation involving government censorship of books and magazines and of the attempts to control the flow of information. That's the source of the conflict in this narrative. If this series is to engage readers, that is what will do the engaging. In fact, the "groper in the library" story arc that begins at the end of this volume is an example of what makes Library Wars a sometimes good read.
POSSIBLE AUDIENCE: Readers who want science fiction with their shojo romance will want to try Library Wars: Love & War.
Rating: B /10
Last Updated: August 31, 2023 - 08:12