Library Wars: Volume 12 manga review
By Leroy Douresseaux
September 6, 2014 - 16:49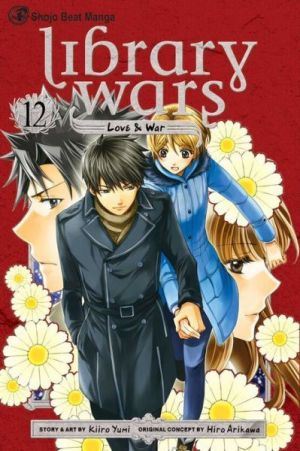 Library Wars Volume 12 cover image is courtesy of barnesandnoble.com.
Follow me on
Twitter
.
Rated "T+" for "Older Teen"
Japan – the near future: The
Media Betterment Act
allows the federal government of Japan to seize any books it deems offensive for any reason. In response, libraries and local governments create a military group that protects library collections – the
Library Forces
. Library Forces focuses on two characters, both of whom are stationed at
Musashino Main Library
:
Iku Kasahara
, a young woman who is new to the Library Forces, and
Atsushi Dojo
, her instructor and a Sergeant First Class.
As
Library Wars: Love & War,

Vol. 12
(Chapters 54 to 58) opens, Iku and Dojo are finally going out for tea. Dojo is Iku's secret crush, so is this really a first date?
The job, however, intrudes on the potential for declarations of love. There is a terrorist attack.
Kurato Toma
and this bestselling novel,
The Nuclear Crisis
, are blamed. Now, Toma needs protection from the government, and Iku learns that the fight against censorship never takes a break, even for love.
[This volume includes two bonus manga stories.]
THE LOWDOWN:
An argument can be made that the
Library Wars
manga is a silly concept. It certainly is not a typical shojo manga (comics for teen girls) in terms of its subject matter and ideas. An armed force that protects libraries, puppy love, and 20-somethings fighting pitched battles in and around libraries: it is kind of weird. But there is more to
Library Wars
.
This manga is based upon author Hiro Arikawa's light novel series,
The Library War
, which I have never read, so I don't know what has been changed in translation from prose book to comic book. In spite of what it seems on the surface,
Library Wars
is a good series; at times, it even manages to make points about censorship and free speech that are relevant to the real world. Don't let the puppy love fool you;
Kiiro Yumi
is serious about her manga. The romance is genuine shojo and the war resonates, pitched battles on library property aside.
Library Wars Volume 12
reminds me of why there are times that I really like this series.
POSSIBLE AUDIENCE:
Readers who want science fiction with their shojo romance will want to try
Library Wars: Love & War
.
Rating: B+ /10
Last Updated: August 31, 2023 - 08:12