Library Wars: Volume 11 Advanced manga review
By Leroy Douresseaux
March 24, 2014 - 15:30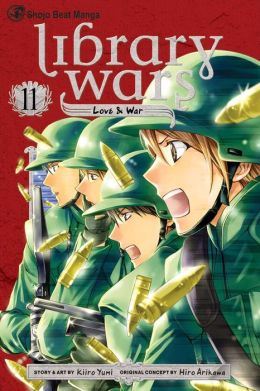 Library Wars: Volume 11 cover image is courtesy of barnesandnoble.com.
Rated "T+" for "Older Teen"
In the near future, the Media Betterment Act allows the federal government of Japan to seize any books it deems offensive for any reason. In response, libraries and local governments create a military group that protects library collections – the Library Forces. Library Forces focuses on two characters, both of whom are stationed at Musashino Main Library: Iku Kasahara, a young woman who is new to the Library Forces, and Atsushi Dojo, her instructor and a Sergeant First Class.
Library Wars: Love & War, Vol. 11 (Chapters 49 to 53) opens with a battle in Iku's hometown. The Museum of Modern Art at the Ibaraki Library is under attack by the Media Betterment Committee (MBC) which upholds the Media Betterment Act. And I do mean attack. The Media Betterment Committee has armed units (including snipers), and they're shooting to kill.
The top-ranked Library Forces team of Musashino Main Library has joined forces with the Library Forces from Mito headquarters in a fierce skirmish against the MBC. Several ranking officers of the Library Forces are severely injured. The damage is far-reaching, as its leads to resignations and changes in Library Forces' management. Meanwhile, a long-promised tea-date begins to sound like a romantic rendezvous.
THE LOWDOWN: The Library Wars manga is not a typical shojo manga (comics for teen girls) in terms of its concept. It is about a girl who joins a kind of private army that protects libraries from groups trying to remove books and other items from their collections, and those groups include the federal government and terrorists. The series can be quite violent, even depicting gun-fighting and gun-related injures, which Library Wars Volume 11 does.
Of course, as shojo, the series must depict the emotional turmoil and fretting of a young woman in love. The series never strays far from doe-eyed Iku pining over Dojo, the man (and her immediate supervisor) whom she loves.
Based upon author Hiro Arikawa's light novel series, The Library War, Library Wars the manga can be odd, even silly. I have to admit that this volume's pitched battle over a library (with snipers!) has its ridiculous moments. However, manga creator Kiiro Yumi finds a way to fashion drama and melodrama that is worth reading.
POSSIBLE AUDIENCE: Readers who want science fiction with their shojo romance will want to try Library Wars: Love & War.
Rating: B /10
Last Updated: August 31, 2023 - 08:12