Library Wars: Volume 15 manga review
By Leroy Douresseaux
April 3, 2016 - 22:33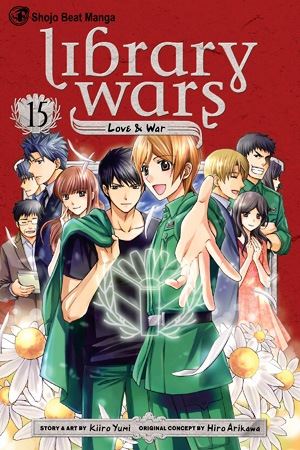 Library Wars: Volume 15 cover image
Rated "T+" for "Older Teen"
Some time in the near future, the federal government of Japan can seize any books it deems offensive for any reason because of the
Media Betterment Act
. In response, libraries and local governments create a military group that protects library collections – the
Library Forces
. Library Wars focuses on two characters, both of whom are stationed at Musashino Main Library.
Iku Kasahara
is a young woman who is new to the Library Forces, and
Atsushi Dojo
is her instructor and a Sergeant First Class.
As
Library Wars: Love & War

, Vol. 15
(Chapters 69 to 42 to Final Chapter) opens, the war between the Library Forces and government censorship has reached a peak. Formerly a lowly recruit, Kasahara is now a high-profile militia member of the
Kanto Library Forces
. Her current assignment is an undercover mission to get censored author,
Kurato Tomas
, to a foreign embassy so that he can escape from Japan.
Meanwhile, Atsushi Dojo is recovering from a gunshot wound, but Kasahara does not know the status of his recovery. Is he dying? Are Kasahara and Dojo destined to be together?
[This volume includes a bonus manga story.]
THE LOWDOWN:
The
Library Wars
manga has come to end. Yes, one can describe it as a silly concept. The idea of an armed force that protects libraries and their collections might seem ridiculous. As I wrote in my review of Vol. 13, however, the Patriot Act might end up making this manga seem a bit prescient. [This manga is based upon author
Hiro Arikawa
's light novel series,
The Library War
, which I want to read.]
Library Wars: Love & War Volume 15
is filled with the series' usual puppy love. Before the happy ending, though, we get the thrill of Iku Kasahara doing a bit of Jason Bourne as she tries to save an endangered and censored author's life. I won't pretend that Library Wars is a great manga, but if you have come to love this manga, you will miss it. I am sure that I will miss it. Of note,
Kiiro Yumi
, the creator of the manga, will continue to produce new material featuring these characters on at least a semi-regular basis.
POSSIBLE AUDIENCE:
Readers who want science fiction with their shojo romance will want to try
Library Wars: Love & War
.
A-
Rating: A- /10
Last Updated: February 5, 2023 - 09:06