Library Wars: Volume 10 manga review
By Leroy Douresseaux
August 2, 2013 - 16:36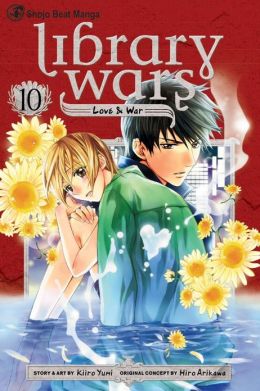 Library Wars: Volume 10 cover image is courtesy of barnesandnoble.com
Rated "T+" for "Older Teen"
Japan – the near future: the Media Betterment Act allows the federal government to seize any books it deems offensive for any reason. In response, libraries and local governments create a military group that protects library collections from the federal government – the Library Forces. Library Forces focuses on two characters: Iku Kasahara, a young woman who is new to the Library Forces, and Atsushi Dojo, her instructor and a Sergeant First Class. Both are stationed at Musashino Main Library.
Library Wars: Love & War, Vol. 10 (Chapters 44 to 48) opens with a stunning announcement. For the first time since its enactment, ordinary citizens file a lawsuit against the Media Betterment Act (MBC).
Meanwhile, the MBC is attempting to censor an exhibition, entitled "Freedom," at the Ibaraki Library. The top-ranked Library Forces team of Musashino Main Library, of which Iku is part, must train the local forces to defend Ibaraki – using any means necessary. That means a trip to Ibaraki, which is in Iku's hometown.
The librarians at Ibaraki resent Iku's position and aren't shy about making their sour feelings known. Plus, Iku's parents, who are unaware of her life as a member of the Library Forces, are about to do some resenting of their own.
THE LOWDOWN: As shojo manga (comics for teen girls) go, the Library Wars manga is rather unusual. The emotional turmoil and fretting of a young woman in love is prevalent, but the story also has lots of intrigue concerning the government and the military (in the form of the Library Forces).
Based upon author Hiro Arikawa's light novel series, The Library War, Library Wars can be odd. Library Wars Volume 10 was odd simply because for much of the first few chapters, the story was not moving much; it was just sort of listing through wooden dialogue. When the action moves to Ibaraki Library and introduces Iku's conflict with some of the people at the library, the story's pace picks up.
Creator Kiiro Yumi has fun with a few cat fights. Still, Vol. 10 isn't one of the better volumes, nor is it a good jumping on point for new readers.
POSSIBLE AUDIENCE: Readers who want science fiction with their shojo romance will want to try Library Wars: Love & War.
Rating: C+ /10
Last Updated: February 5, 2023 - 09:06