Library Wars: Volume 13 manga review
By Leroy Douresseaux
April 6, 2015 - 19:40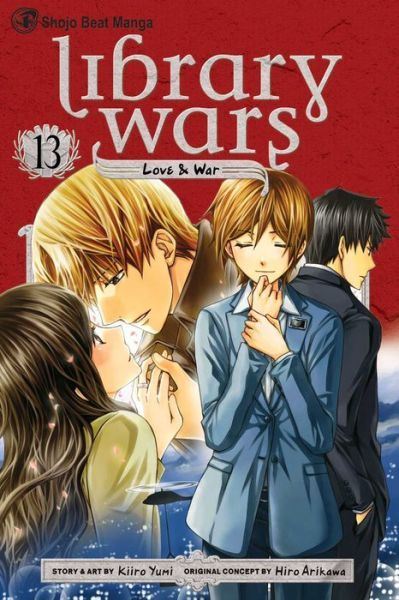 Library Wars: Volume 13 cover image is courtesy of barnesandnoble.com.
Follow me on
Twitter
.
Rated "T+" for "Older Teen"
In the near future, the federal government of Japan can seize any books it deems offensive for any reason because of the
Media Betterment Act
. In response, libraries and local governments create a military group that protects library collections – the
Library Forces
. Library Wars focuses on two characters, both of whom are stationed at
Musashino Main Library
.
Iku Kasahara
is a young woman who is new to the Library Forces, and
Atsushi Dojo
is her instructor and a Sergeant First Class.
As
Library Wars: Love & War

, Vol. 13
(Chapters 59 to 63) opens, the
Library Task Force
stops an abduction attempt of author
Kurato Tomas
by the
Media Betterment Committee
. Toma is sheltered at the
Kanto Library Base
because he and his bestselling novel,
The Nuclear Crisis
, are blamed for a terrorist attack. Now, the forces of censorship want him punished... perhaps, even silenced.
While protecting Toma, Kasahara and Dojo experience a semi-intimate moment... with some comic relief. Meanwhile,
Mikihisa Komaki
visits
Marie
with a ring, and Kasahara comes up with an obvious solution that no one else considered.
[This volume includes three bonus manga stories.]

THE LOWDOWN:
As I usually say, an argument can be made that the
Library Wars
manga is a silly concept. The idea of an armed force that protects libraries and their collections might seem ridiculous, but with Section 215 of the Patriot Act about to be re-authorized, some of us may one day consider this manga prophetic or at least prescient. [This manga is based upon author Hiro Arikawa's light novel series,
The Library War
, which I want to read.]
Library Wars: Love & War Volume 13
is filled with some puppy love and even a scene of a guy who decides to "put a ring on it." I have to admit that I sometimes find myself enjoying the "Love" in
Library Wars
' "Love & War." However, I must give credit to Vol. 13 for its easy-to-digest discussion of censorship and of the public's general disinterest in how books are banned by governmental (both federal and local) entities. This manga may keep is simplistic, but at least it is having this discussion.
POSSIBLE AUDIENCE:
Readers who want science fiction with their shojo romance will want to try
Library Wars: Love & War
.
Rating: A- /10
Last Updated: August 31, 2023 - 08:12