Kamisama Kiss: Volume 22 manga review
By Leroy Douresseaux
September 13, 2016 - 21:18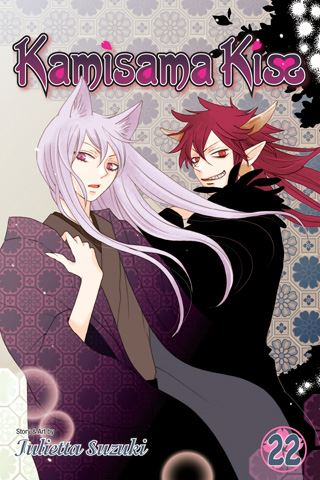 Kamisama Kiss Volume 22 cover image
Rated "T" for "Teen"
High school student
Nanami Momozono
is kicked out of the apartment she shares with her father, after he leaves town to avoid his gambling debts. Later, Nanami saves a strange man named
Mikage
, so he generously offers her his home. Nanami later discovers that Mikage has tricked her into taking his job as the tochigami (local god) of the Mikage Shrine. To make matters worse, Nanami is love with her head shinshi (or familiar),
Tomoe
, a fox yokai who hates humans.
Tomoe attempted to transform into a human in order to be with Nanami, but the spell simply changed the fox yokai into a fox. As
Kamisama Kiss

, Vol. 22
(Chapters 126 to 131) opens, Nanami and fox Tomoe join
Takehaya
, Mikage,
Otohiko
, and
Mizuki
on a journey into the
Land of the Dead
. There, they hope to retrieve the soul of
Okuninushi
, the one person who can turn Tomoe back into an ayakashi (an old term for yokai).
Meanwhile,
Kirihito
enters the land of the dead with
Yatori
, who is obsessed with him. Kirihito needs to take the soul of the monstrous yokai,
Akura-oh
, which resides in him, and transfer it into Akura-oh's body, which resides in the Mountain of Flame in the Land of the Dead. However,
Izanami
, the ruler of the Land of the Dead, is furious that no one asked her permission to enter her realm. She slams shut the gates, shrouding the Land of the Dead in darkness.
[This volume includes a bonus story, "Special Episode."]
THE LOWDOWN:
The
Kamisama Kiss
manga is always a highly imaginative shojo fantasy manga. I'm like a broken record, saying that every time I write a review of this series. I have to be honest, though; I love just about everything that creator
Julietta Suzuki
does with this series.
Kamisama Kiss Volume 22
is one of those exceptional volumes. The visit to the Land of the Dead (and that is what it seems like, a friend visit – not a journey) is a delightful flight of fantasy.
Kamisama Kiss
is about magic, but it is also genuinely magical. It is obvious, isn't it? I want you, dear reader, to read
Kamisama Kiss
.
POSSIBLE AUDIENCE:
Fans of fantasy and yokai-themed manga will want to try the Shojo Beat title,
Kamisama Kiss
.
A
Rating: A /10
Last Updated: January 24, 2022 - 11:00