Kamisama Kiss: Volume 20 manga review
By Leroy Douresseaux
February 15, 2016 - 21:33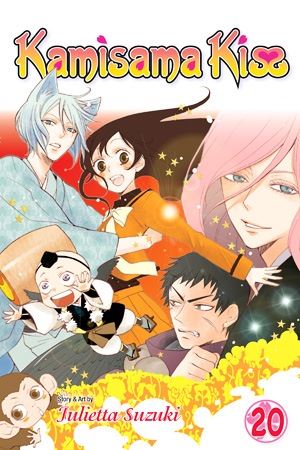 Kamisama Kiss Volume 20 cover image
Rated "T" for "Teen"
Nanami Momozono
is kicked out of the apartment she shares with her father, who has already left town to avoid his gambling debts. Then, the high school student saves a strange man named
Mikage
, so he generously offers her his home. Nanami later discovers that Mikage has tricked her into taking his job as the tochigami (local god) of the
Mikage Shrine
. To make matters worse, her head shinshi (or familiar) is
Tomoe
, a fox yokai who keeps Nanami from enjoying her youth.
Kamisama Kiss

, Vol. 20
(Chapters 114 to 119) opens during the third day of the school trip. Nanami and her friends finally have a chance to enjoy a trip to
Okinawa
. However,
Ruriko Kineshima
, a girl from another class, decides to tag along in an attempt to discover if
Kurama
is human or not. When she finds herself in trouble with yokai, Nanami and friends must rescue her.
Mikage sends Tomoe on a mission to deliver a gift to a shrine maiden. This assignment takes him to an island that forces him to remember when he first met this shrine maiden – so very long ago. Now, Tomoe wonders if it is best that he become a human in order to have a relationship with Nanami.
[This volume includes a bonus story, "Special Episode."]
THE LOWDOWN:
The
Kamisama Kiss
manga is always imaginative, and that it what I prefer. I am not into the puppy love. Sometimes, though, when obstacles keep blocking the love... well, I have to be a softie. Teen puppy love makes for good reading.
Kamisama Kiss Volume 20
deals with what is essentially a mixed-relationship, being that Nanami is human and Tomoe is a yokai. The relationship is made more complicated when one tries to change to be like the other. In fact, the overarching themes of Vol. 20 concerns transformation and adaptation, especially concerning the movement between worlds. I think
Kamisama Kiss
is moving to an exciting place in the larger narrative, as it calculates the cost of supernatural love.
POSSIBLE AUDIENCE:
Fans of fantasy and yokai-themed manga will want to try the Shojo Beat title,
Kamisama Kiss
.
Rating: A- /10
Last Updated: January 24, 2022 - 11:00